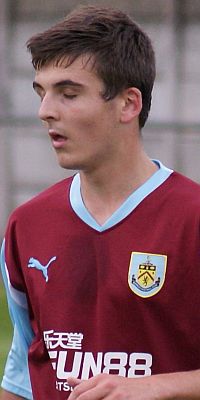 First year apprentice Archie Love
A very young youth team last season took some time to settle, but following an excellent run in mid-season we finished in a creditable seventh, but a more experienced and stronger squad this time out should improve on that.
They've enjoyed a good pre-season, including the Clarets Mad Youth Foundation backed trip to Portugal and are now ready for their first game. Coach Terry Pashley said: "They have applied themselves well in pre-season and worked hard, and they are fit and raring to go."
He's also been able to give the lads a boost by pointing to the progress being made by players who have come through the youth system in the last few years and are now in and around the first team.
"We can say to the lads, 'who is going to be the next one to make an impact?'. There are a lot of names we can mention now, from Chris McCann down, who have all been where these lads are now."
Tomorrow's game kicks off at 11:00 a.m.