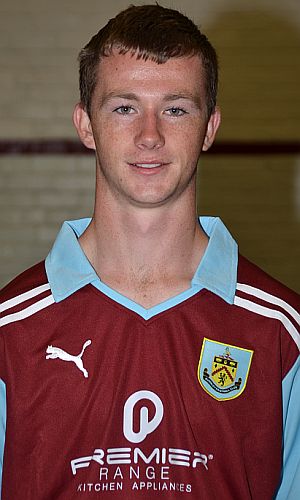 A first goal for Luke Gallagher
It was very much a game of two halves against what has to be the biggest youth team I've ever seen, and I thought that Blackburn team was big, and yet is was Carlisle's smallest player, their goalkeeper Jordan Parker, who held us at bay in an impressive first half for the Clarets.
There was nothing he could do when Luke Gallagher gave us an 8th minute lead with his first Burnley goal, scoring from close range after good work from Steven Hewitt.
An early lead was just what we wanted with it looking likely that three wins would be needed in five days to ensure we won the league, and that lead would have been extended during a dominating first half.
Unfortunately for Burnley the goalkeeper was in inspired form. He made two very good saves from Hewitt and Gallagher but the best of the lot denied the hugely impressive Shay McCartan just before half time. The Irish striker went on a brilliant run and looked a certain scorer until Parker just about got a boot onto it and see it just go wide.
A 1-0 scoreline at half time hardly did us justice after a very impressive 45 minutes in what, on paper, was the toughest of the three remaining games, but it was a completely different story after the break.
We started brightly but things soon faded and the big Carlisle side began to get on top against a tiring Burnley side that had added Adam Evans to its injury list which already includes both full backs Aryn Williams and Luke Conlan and central defender Tom Anderson.
And disaster struck either side of the hour when Carlisle scored twice. There seemed little left in the tank to get back at them and it was only in the closing stages that we were able to even put them under any sort of pressure.
By then, unfortunately, the game was gone and our chances of winning the league now look very slim. All Preston have to do is win their remaining game, even if we win both of ours, and they will win the league.
In that second half it looked as though the number of games had finally caught up with us.
Burnley, who included trialist Elliot Poole today, lined up: Josh Cook, Charlie Holt (Lewis Nuttall 80), Alex Coleman, Jack Errington, Alex Mullin, Luke Gallagher, Steven Hewitt, Archie Love, Elliot Poole (Jason Gilchrist 72), Cameron Howieson, Shay McCartan.