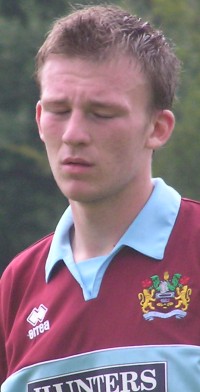 Rob Turner - hat trick for the youth team

With Kyle Lafferty scoring his first ever Football League goal for Darlington, with Marc Pugh back playing for Kidderminster and with goalkeeper Mark Crossley ruled out with injury it was a somewhat different looking side.



Crossley has been fortunate, an injury in that last game at Walsall saw him admitted to hospital a day later and any further day could well have seen him lose his leg. We'd like to wish Mark all the best as he recovers.



His place today was taken by trialist Scott Armstrong and he conceded just the one goal in the tenth minute of the game, but the Clarets had gone in front previously in the first minute with a goal from Centre of Excellence Under-16 striker Rob Turner.



It was Turner again who restored the lead before half time and he completed his hat trick to extend the lead before fellow striker Cayne Hanley completed the scoring with his sixth goal in the last four youth games.

The youngsters are next in action this Wednesday evening at Turf Moor when they take on Fulham in the FA Youth Cup. If you get the chance, come down and give them your support.



Our team was: Scott Armstrong, Rob Henry, Tom Blackler, Martin Reilly, Paul Casey, Ali Akbar, Dale Underwood (Craig), Nicky Platt (Young), Jay Rodriguez (Adam Kay), Rob Turner, Cayne Hanley. Sub not used: Raphael Evans.