A Steven Hewitt penalty just a few minutes from the end was our only reward and it was the least we deserved from the two legs although overall any fair judge would have to say the better team have gone through.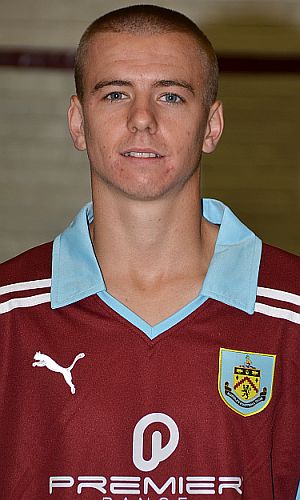 Steven Hewitt got our goal from the penalty spot
Blackburn scored twice early in the second half to virtually put an end to the tie but you have to admire the way we kept going when all looked lost. They soon lifted their heads again, very much kept their discipline, and continued to play some decent football.
Terry Pashley had named an unchanged team although there was a tactical switch with Adam Evans in a central role.
The game followed the pattern of the first leg with the Clarets winning numerous free kicks but in the opening period of the game it was Blackburn who again settled the better. It wasn't all one way and we did have a couple of opportunities.
Steven Hewitt forced a save out of the goalkeeper Matthew Unwin, who must surely be set for an award this year for wasting more time than any other footballer, but the best chance probably came when Evans worked his way in from the right but couldn't quite get his shot away early enough and finally saw his effort blocked.
The crowd, which was predominantly home support with a small number of away fans perched in the cricket field stand corner, were soon behind the lads and for a time in that first half we responded well and certainly down the left hand side produced some excellent football.
Unfortunately there were no goals to come from it and it was the visitors who had the best chance of the half but Curtis Haley's effort wasn't good enough to beat Josh Cook.
No goals at half time and there was still hope that we could turn things round. Shay McCartan went on a storming run only to see his effort blocked as the home crowd roared the players on.
Unfortunately disaster was just around the corner as they hit us with two goals in quick succession. The first was as fortunate as they come; the second came from a mistake.
We'd done everything to keep out Osawe as he came in from the left. His shot was poor but it hit the unfortunate Alex Coleman and rebounded to Fernandez who placed his shot into the bottom corner.
And within no time it was 2-0 on the night as central defender Edwards saw Cook fail to deal with his free kick with the ball finding its way into the corner.
After the first of those goals I saw players encouraging each other. When the second went in I feared the heads might drop and we could take a heavy defeat. Not on your life; they kept at it and were finally rewarded with the penalty for a clear hand ball.
After Unwin spent an age holding up the taking of the kick he was finally carded for almost 180 minutes of time wasting over the two legs before picking the ball out of the net as Hewitt made no mistake from the spot.
There was to be no heroic recovery, just the announcement that Aryn Williams had been voted man of the match and I can't think there would be too many disagreeing with that.
But it wasn't just about Aryn tonight, or all season, it's about the whole youth squad who have taken us a lot further than any of us could have dared hope. No one could have envisaged wins against Ipswich, West Brom and Fulham but that's exactly what they have done.
They'll have their heads down now, no doubt about that because they'll be disappointed that the adventure is over. They've no need to have heads bowed though; they can stand heads up and proud of what they've achieved this season.
Well done to every one of them and now we can only hope they go on and get enough points in the remaining games to lift the Youth Alliance League title. It's the least they deserve.
The teams tonight were;
Burnley: Josh Cook, Aryn Williams, Alex Coleman, Jack Errington, Luke Conlan, Luke Gallagher (Jason Gilchrist 68), Steven Hewitt, Archie Love (Luke Daly 82), Cameron Howieson, Shay McCartan, Adam Evans. Subs not used: Callum Jakovlevs, Charlie Holt, Alex Mullin.
Blackburn: Unwin, Henley, Beesley (Wylie 68), Hands (Cotton 75), Edwards, O'Connell, Osawe, Hanley, Haley, O'Sullivan, Fernandez. Subs not used: Dilo, Boland, Laverty.
Referee: Craig Pawson (South Yorkshire).
Attendance: 10,556 with just 1,143 in the cricket field stand.