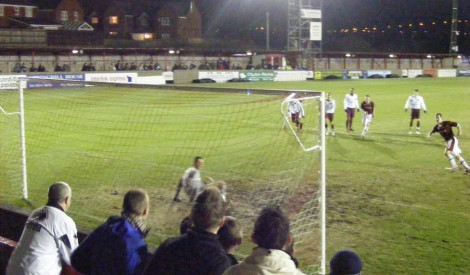 Adam Kay gives the Clarets the lead from the penalty spot
The second Burnley-Arsenal clash of the week happened tonight at the Fraser Eagle Stadium in front of a fair sized crowd dotted with former professionals, with many eager to see the young Clarets do battle with their illustrious North London opponents. Even with the final score as it was I'm sure that most will go home tonight having been entertained with a display of finesse and pace from one side and gritty graft from the other.
Make no bones about it. Tonight we were soundly beaten by a superior side littered with international players, some of whom have already gained experience in the Arsenal 1
st
team. However, we fought front beginning to end in the contest and our lads should hold their heads up high after tonight.
Our plans had taken a knock before kick-off with news that keeper Jon Sergeant had not sufficiently recovered from injury in time to play. With Stef Ritchie also unavailable it meant that Dean MacDonald came in for his 1
st
ever appearance at this level. Rob Turner had shook off his ankle knock to retain his place in the side which lined up similar to the previous game against Accrington.
It was a dream start for the boys as with barely a minute on the clock we had won a penalty. Chris Anderson surged up the right wing but over hit a through ball but the Arsenal keeper shanked his clearance into a central position. The defence panicked and when the ball fell to Alex-Ray Harvey he fired at goal, seeing it ricochet off the torso of one centre half and onto the outstretched hand of another. The ref had no hesitation and Adam Kay stepped up to stroke the ball past Szczesny.
It was the kind of start we had dreamed of and had Arsenal rattled for a moment. Watt was fortunate not to pick up a booking for a lunge on Thomas Bradley, but was perhaps helped by Chopper getting to his feet rather than writhing around and whining. With their composure swiftly regained they began to play and had us chasing shadows for large portions of the remainder of the game.
On 14 minutes they equalised as debutant keeper MacDonald made a mistake and presented Lansbury with the simplest of chances after he inexplicably dropped the ball at the feet of the wonderfully coiffured midfielder and the scores were level. Within five minutes the Gunners were in front as Gibbs swapped wing to torment our right and his trickery made space for Lansbury to cross deep to Randall, who took a touch and curled into the top corner from outside the box.
Simply put Arsenal were dominant and could have extended their lead as they hit the bar, had another attempt desperately blocked by Nik Kudiersky and saw MacDonald smother at the feet of Lansbury. With half time fast approaching Gibbs added a third with a combination of luck and good judgement. He broke into the box and slid in along with Chris Lynch and MacDonald. It looked like we'd thwarted the attack but Gibbs sprung to his feet in a flash and clipped home from an acute angle.
The 2
nd
half should have started for Arsenal just like it had started for us. Lansbury stormed into the box and was fouled. It was pretty blatant but the ref felt the tackle was fair. I wasn't complaining. Lansbury didn't complain for too long though as within 5 minutes he'd connected with a left wing Gibbs cross and volleyed in off the lunging Lynch.
We were still fighting but just couldn't get near them. They picked up on even the slightest of misplaced passes and our advances were restricted to no closer to their goal than 25 yards. One reason for this could have been due to the other side of Arsenal, a little bit of the cynical to go with their clinical. On the rare occasions we were getting the ball down and passing round them, or surging through them, they would foul us. Harvey was twice a victim of this and it kept us from taking any kind of foothold, and we consequently got a little snappy, picking up three quick bookings.
With a quarter of the game to play we made our first change as Welsh schoolboy Liam Newman replaced Rob Turner, who'd got little change from Hoyte in the centre of defence. It was a like for like swap and didn't truly affect the flow of the game. On the half hour mark the scoring was completed as Lansbury completed his hat-trick. A claret attack was broken up and an incisive move from left back to right wing ended with the England U-17 star firing home, once again deflected off Lynch.
More changes were made on both sides with Craggs and Chaggar also getting runs out for us. Arsenal had more opportunities and MacDonald made some very good stops to keep the Gunners at bay and the game drew to a close with the final score 1-5.
In spite of the score there were some good displays from our lads. The chasing they have done will mean they will be totally exhausted tonight but they should look back at the game and take as many positives from it as possible. Regardless of the number of goals conceded our defence played exceptionally well against special opponents and the keeper should be congratulated for recovering like he did from his rookie mistake to put in an assured display.
Teams:-
Burnley:
Dean MacDonald, Dean Stott, Thomas Bradley, Nik Kudiersky, Chris Lynch, Chris Anderson (James Craggs), Alex-Ray Harvey (Dil Chaggar), Adam Kay, Alex MacDonald, Wes Fletcher, Rob Turner (Liam Newman)
Not used: Dan Brown, Ben Hoskin.
Arsenal:
Wocjciech Szczesny, Abu Ogogo, Rene Steer, James Dunne, Gavin Hoyte (Kyle Barley), Paul Rodgers, Henri Lansbury, Mark Randall, Rui Fonte, Sanchez Watt (Gilles Sunu), Kieran Gibbs (Jay Thomas).
Not used: James Shea, Thomas Cruise.
Attendance:
826.