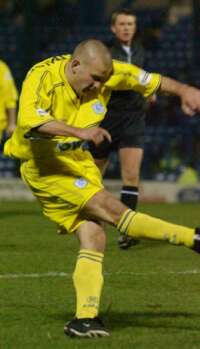 Tranmere's Andy Robinson - scored their goals
In some ways the game was reminiscent of the Lancashire FA Youth Cup tie last month. In the absence of Ronnie Jepson (presumably away on suntan lotion duties in Portugal), Terry Pashley was in charge, and he employed similar tactics to those which had frustrated Tranmere before. Playing with only one out and out striker, the Clarets crammed the midfield in an attempt to stifle the visitors' creativity, and tried to catch the opposition on the break.
And as before, against opposition that included former Huddersfield Town stalwart Kevin Gray and flying winger Andy Parkinson, Pash was obliged to field an inexperienced side, which could not even count one minute of first team action between them.
Burnley, roughly in 3-6-1, lined up: James Salisbury; Ryan Townsend, Earl Davis (capt.), Liam Eves; Andrew Leeson, Mark Rasmussen, Joel Pilkington, Andrew Waine, Richard Chaplow (Stephen Richardson 86), Matthew O'Neill; Damien Hindle. Subs not used: Michael Hale, Robert Grimes, Marc Pugh, Darryl Avery.
Tranmere, in 4-4-2: Russell Haworth; Richard Hinds, Tyrone Loran, Kevin Gray, James Olsen; Andy Parkinson, Jamie McGuire (Stephen Jennings 67), Danny Harrison, Alex Hay; Jason Price, Andy Robinson. Subs not used: Paul Robinson, Phillip Palethorpe, Alan Griffiths, Paul Brown.
The game started at a frantic pace, and after only eight minutes the Clarets took the lead for the first time in a home reserve game this season. Andrew Leeson swung in a freekick from the right, and as Liam Eves went to meet the cross he was fouled by Gray. Penalty, and the in-form Damien Hindle struck a perfect shot to Howarth's left for 1-0.
Shortly after Damo, who had a fine game throughout, produced a lovely piece of skill. Dropping his shoulder he turned his marker, left him for dead as he raced into the area, and set up Rasmussen who shot just over.
This was the Clarets' last serious attempt on goal for the rest of the half as Tranmere, pushing Parkinson forward at every attempt, began to peg Burnley back. The frantic nature of the game continued, and with at times upwards of ten bodies in midfield scrambling for the ball creative play was at a premium.
Tranmere came close on a couple of occasions before the break. Salty produced a fine save from Robinson, but Price should have done better when he shot over, although the ball did bobble cruelly as he was about to shoot.
The Clarets defence though, well-marshalled by Captain Earl, held out, with the Colossus himself putting in some fine challenges. The midfield was backing up to good effect, with Andrew Waine and Joel Pilkington in particular working tirelessly. Ras and Chappie were getting forward at every opportunity to support the ever-willing Damo, and the Clarets' efforts were generously applauded as the ref blew for halftime.
Within minutes of the restart the Clarets almost went two up. Waine surged forward, played in Hindle who advanced on goal but saw his shot held by Haworth.
Tranmere though soon carried on from where they had finished the first half. Hay was guilty of two glaring misses, and a handball denied the Rovers the equaliser. But after 63 minutes Tranmere did draw level in fine style. In almost a carbon copy of Ian Moore's first goal in the Grimsby replay, Robinson received the ball with his back to goal and 25 yards out, turned, and hit an unstoppable left foot shot low past Salisbury for 1-1.
This spurred on Tranmere, and they enjoyed by far the majority of possession, with Burnley finding it difficult to get out of their own half. However it was the Clarets who came closest to scoring, both from breakaways involving Leeson, Waine and Pilkington. The Rovers defence was happy to scramble the ball away on both occasions, particularly so when Chaplow's shot seemed to be goalbound.
With time running out and a valuable first home point of the season beckoning, disaster struck. Advancing upfield in the last minute of normal time, the Clarets lost possession. The ball was quickly played out to the left wing where Hay, atoning for his earlier errors, raced away and played in a low cross. With the defence exposed former Cammell Laird striker Robinson was able to pick his spot for his second of the night.
Although beaten, the young Clarets had stuck to their task well against far more experienced opposition. Hindle's non-stop running as the lone striker typified the team's attitude. But ultimately it is another defeat which leaves the reserves in serious relegation trouble. The opportunity for revenge presents itself soon though, as the next fixture is away at Tranmere (to be played at Vauxhall Motors) in two weeks time.
Finally, a mention of the "crowd" last night of 122. We've already said that this was possibly the most inexperienced reserve side ever fielded by Burnley; well, this must surely have been the lowest ever attendance at a reserve game. In the six home games this season, the gates have fallen regularly from 496 to last night's paltry gathering. If this carries on, there will be a negative attendance at the Walsall game in April!
If you're a season ticket holder it's free. There must be loads living within a few minutes of the ground. If at all possible, get down to the Turf for the next game against Oldham on March 12th. The team needs your support. It's not a great deal to ask, after all.

Reserves Fixtures and Results