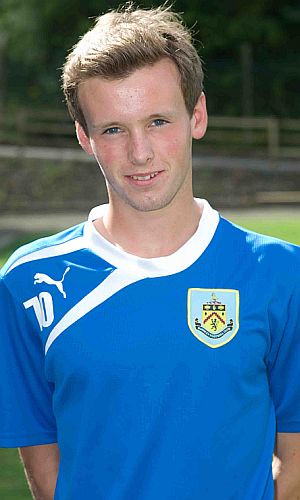 Jamie Frost scored our controversial second goal
We could have no complaints about the scoreline and but for some brave goalkeeping from Conor Mitchell we could well have been coming home with a defeat from this fixture played on a warm night in the Welsh quarter of Chester.
There was a nice welcome for us as we crossed the border into the social club before the game, able to enjoy a nice pint of cask to go with the healthy homemade salad, and a nice chat with the programme seller.
Only the one stand was open for the game and we'd been warned that we might suffer somewhat with the sun in our eyes, and it certainly made life difficult as the teams came out wearing all purple and all black respectively, somewhat easier because Chester didn't bother with any numbers on the back.
Their team certainly wasn't the one on the team sheet because that sheet showed no sign of the familiar figure of Chris Iwelumo who was definitely up front for the home side. He was quickly involved in the game too, twice powering headers just wide of the target.
In truth he might just have done a bit better with the first one and there is no doubt he should have done much, much better with the second which presented him with a golden opportunity to open the scoring.
We'd started the game with three trialists on the pitch. None were named but one was in the centre of defence, one up front and one in a left wing position. We guessed the second and third could be Kaiyne Woolery and Gboly Ariyibi but certainly couldn't confirm that.
We also had Luke Conlan at left back. He was released at the end of last season but is currently training with us as he recovers from an injury. He was named as captain.
Having survived the Iwelumo headers, it was the Clarets, or All Blacks, who went in front with a smart finish from Jadan Hall, the former Blackburn and Stoke midfielder, who has signed a short term deal with us. He received the ball from Callum Richardson in th e 20th minute and shot smartly into the corner from the edge of the box, but he was given far too much time from the home defence.
Without ever being action packed it was a decent first half. Chester had a couple of opportunities but on both occasions we defender well with Alex Whitmore in particularly showing some good form, and at the other end we were close to doubling the lead from a free kick taken by Cameron Howieson but it was deflected just wide for a corner.
The second half was a different story. We made five half time changes and never really got to grips with things at all. Chester equalised ten minutes into the second half from the penalty spot after the trialist defender had handled, but given what was to follow it is amazing that it was given.
Chester were very much in the ascendance and twice sub goalkeeper Conor Mitchell came to our rescue, once with a brilliant save with his foot on the line after a deflection had taken the ball in a different direction.
But then enter referee Rob Jones. As Kevin Ly tried to break through he amazingly missed two handballs on the edge of their box by defenders but with eleven minutes remaining I am mystified as to how he missed yet another.
Jamie Frost was played into the box on the left hand side and I'm sure the whole of Chester could see that he controlled the ball with his hand. His finish across the goalkeeper into the far corner was excellent but there was no celebration as he assumed a free kick had been given. To everyone's astonishment the referee pointed to the centre and we were back in front.
We held it until five minutes from the end when they powered a header into the corner from a free kick. Mitchell somehow managed to get a hand to that and then went on to make another good save right at the end to keep the scores level.
The teams were;
Chester: Worsnop (Hall ht), Taylor (Disney ht), Kay, Charnock, Roberts (Brown ht), Rooney (Rea ht), Dixon (Durnin 62), James (Mahon ht), Peers (Riley ht), McConville (Menagh ht), Iwelumo (Hobson ht).
Burnley: Danijel Nizic (Conor Mitchell ht), Callum Richardson (Evan Galvin ht), Trialist, Alex Whitmore, Luke Conlan, Cameron Howieson (Kevin Ly ht), Nathan Lowe, Luke Daly, Jadan Hall (Christian Hill ht), Trialist, Trialist (Jamie Frost ht).
Attendance: 732.