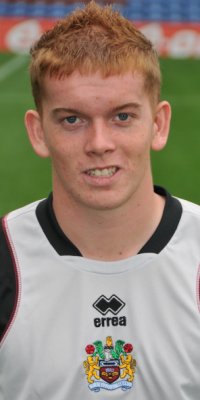 Goalkeeper Danny McDonald
The league has been dominated this season by three teams, new leaders Wrexham along with Carlisle and ourselves. Incredibly we've lost just two games between us, Wrexham surprisingly lost to Stockport in October whilst we beat Carlisle in the first match of the season.
Wrexham currently have the advantage in terms of points but they've played a game more than Carlisle and three more than Burnley, and should Wrexham win at Port Vale on Saturday their position has to be strengthened with us hosting the Cumbrians at Gawthorpe.
Wrexham's 3-2 win against Walsall was matched by the Clarets who came from 2-0 behind to beat Rochdale by the same score. The only other league game played saw Port Vale beat Bury.
There's a full fixture list this coming Saturday with our top clash against Carlisle kicking off at 11:00 a.m. at the training ground.
A win would see us climb above Carlisle and a guaranteed second place, but if that was matched by a Port Vale win against Wrexham we would go back to the top of the league.
Last week's results
Saturday 24
th
January
Port Vale 2 Bury 1
Rochdale 2 Burnley 3
Walsall 2 Wrexham 3
This week's fixtures
Saturday 31
st
January
Accrington v Blackpool
Burnley v Carlisle
Chester v Bury
Macclesfield v Shrewsbury
Oldham v Morecambe
Port Vale v Wrexham
Rochdale v Preston
Tranmere v Walsall
Wigan v Stockport
Burnley Goalscorers (league and cup)
19: Wes Fletcher
7: Chris Anderson
5: Alex-Ray Harvey, Dominic Knowles, Liam Newman
4: James Craggs
3: Oliver Devenney, Michael King, Nik Kudiersky
2: own goals
1: Dil Chaggar, Ben Hoskin, Chris Lynch