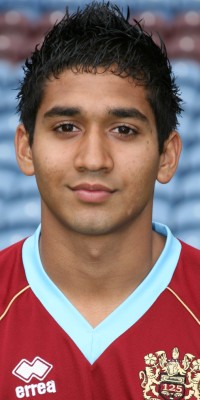 Dil Chaggar - youth team midfielder
It was the clash of the day as third place Blackpool took on Bury, who have been at the top for some considerable time. Played at Blackpool's Squires Gate training ground the home side ran out 2-0 winners.
That result saw Bury drop no fewer than three places in the table. Blackpool themselves are now above them, as are Walsall who beat Wrexham and new leaders Wigan. They had a slow start to the season but are now the side very much in form and they went to Tranmere and won 3-0.
Biggest winners of the day were Oldham. They hit bottom club Morecambe for six and remain one place above the Clarets with one point more. The table currently sees Burnley just six points behind the leaders, and having seen a couple of our defeats that could and should have ended in wins we could do easily have been right up there.
Bury should have been our opponents this weekend, but the Youth Cup tie against Arsenal beckons on Friday, kick off 7:00 p.m. at Accrington with the winners set to play Liverpool at Anfield in the fourth round.
Last Saturday's results
Blackpool 2 Bury 0
Burnley 4 Accrington 0
Carlisle 2 Chester 1
Oldham 6 Morecambe 2
Port Vale 1 Macclesfield 4
Rochdale v Preston - Postponed
Shrewsbury 2 Stockport 4
Tranmere 0 Wigan 3
Walsall 3 Wrexham 2
This week's fixtures
Accrington v Carlisle
Blackpool v Preston
Bury v Burnley - Postponed
Macclesfield v Tranmere
Morecambe v Rochdale
Oldham v Port Vale
Stockport v Wigan
Walsall v Chester
Wrexham v Shrewsbury
Burnley Goalscorers
10: Wes Fletcher
9: Alex McDonald
8: Adam Kay
7: Rob Turner
2: James Craggs, Alex-Ray Harvey, Chris Lynch
1: Ben Hoskin, Nik Kudiersky