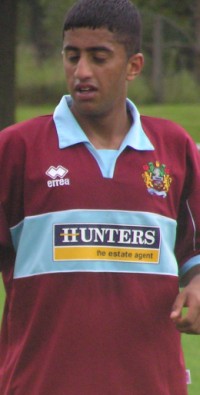 Ali Akbar - broke the deadlock from the penalty spot

It was a game that looked to be heading for extra time after a goalless first 86 minutes but then a rush of goals saw Burnley run out 2-1 winners, and book their final date which will be played we believe at Bloomfield Road on Wednesday evening.



The first half of the game was a bright affair and both sides could have scored. Mark Crossley made one good early save and there were chances at both ends with the Clarets very unfortunate not to have won a penalty for a clear foul on Tom Bradley.



The interval came without a goal and for much of the second half it looked as though it would remain that way. Bury had most of the possession and did most of the attacking but we stood firm and with three centre of excellence boys in the back four we defended superbly and certainly kept any chances to a minimum.



We did have our moments but generally, in difficult conditions, we weren't able to put the home side under any real pressure and with just over five minutes to go we were already discussing the inevitability of extra time – and then it all changed.



There were just under four minutes on the clock when Rob Turner run onto a through ball and took it into the box where he was brought down for a penalty. There was no doubt, the referee saw it, and after a short delay Ali Akbar stepped up to hit the spot kick home.



That looked to have won it and two minutes later we doubled the lead. Dale Underwood linked well with Connor Smith down the right hand side and it was Smith who got to the line to pull the ball back for young substitute James Craggs to score at the far post.



The Burnley contingent in the big crowd were celebrating but the home side pulled one back in time added on, but there was to be no great comeback and the Clarets were the ones celebrating at the end.



So the season continues, and I can't think of a better reason to extend it than a cup final. Earlier today Blackpool beat Preston 3-2 to claim their place and hopefully we will go one better than the side of one year ago who were beaten in the final against Oldham.



The teams today were,



Bury: Michael Smith, Kane Bentley, Lee Peatfield, Damian Quigley, Kieran Hopkinson, Tom Clarkson, Nick Potter, Dale Stephens, David Worrall, Stephen Burke, Adam Williams. Subs: Jordan Stepian, Ryan Hall, Dominic Taylor, Jack Danney, Luke Holmes.



Burnley: Mark Crossley, Dean Stott, Ben Hoskin, Tom Bradley, Paul Casey, Dale Underwood, Connor Smith, Adam Kay, Alex-Ray Harvey (James Craggs), Ali Akbar, Rob Turner. Subs not used: Lewis Craig, Ash Young, Alex McDOnald, Chris Rowney.