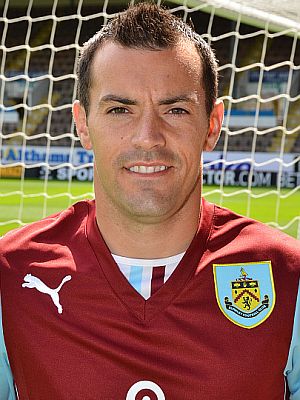 Ross Wallace back in action
Wallace's last game was the 2-0 home victory over Yeovil at Turf Moor back in August and in the following week the club revealed that he needed surgery on a knee problem that would rule him out beyond Christmas.
He's been back in training and yesterday's game, and one at Liverpool on Thursday, have been specially arranged to get the Scot some match action.
He played the first half of the game yesterday that the Clarets won 1-0 with Cameron Howieson scoring the only goal of the game.
Dyche said of Wallace after the game: "Ross is continuing progress with his rehab and we are doing that wisely and sensibly, which is why he played 45 minutes today.
"We will now build that up as we, and he, feel comfortable with in order to get him back to full fitness. Ross is on schedule and we want to make sure he is right and proper and that is exactly how things are going at the moment."
Unfortunately there are no details of the game available, other than Howieson having scored the goal and there also being a return for Joseph Mills, another player coming back from injury.
The Burnley team was: Nick Liversedge, Cameron Dummigan, Alex Coleman, Tom Anderson, Joseph Mills, Micah Evans, Steven Hewitt, Archie Love, Ross Wallace, Cameron Howieson, Jason Gilchrist. Subs: Danijel Nizic, Jack Errington, Luke Conlan, Kyle Brownhill, Jamie Frost, Ntumba Massanka.