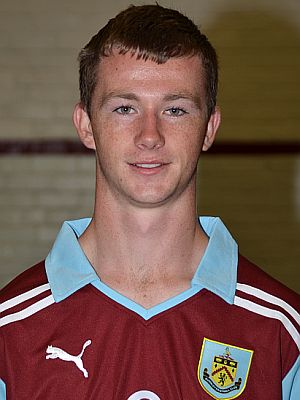 Luke Gallagher
Bury had got off to a winning start the week before at Gawthorpe, coming from 2-0 behind to beat us 3-2, and followed that up on Saturday with a 3-0 win against Blackpool, one of the real strugglers now at youth level.
Carlisle had beaten Accrington but had the toughest of tasks against Preston for their second game. They came out on top with a 2-0 win which pleased their coach Eric Kinder. He said: "When we start each season I always say the benchmark in this league is Burnley and Preston, and there is usually always one other who gets a good group together and threatens.
"Preston won the league last year and they came up here on the back of a 5-1 opening day win, so they're a good side. It was a very even game in the first half but I'm absolutely delighted with us because we thoroughly deserved the win."
Carlisle are the league leaders just now, on goal difference, and Burnley's win against Fleetwood has seen us move into fifth place.
Wrexham were the other winners on Saturday, beating Shrewsbury, there were two draws and one game, that between Morecambe and Accrington, postponed.
Burnley face the difficult trip to Preston this Saturday, the game kicking off at 10:30 a.m.
Below are last weekend's results, this week's fixtures and the current league table.
LAST WEEK'S RESULTS
Saturday 18th August 2012
Burnley 3 Fleetwood 1
Bury 3 Blackpool 0
Carlisle 2 Preston 0
Morecambe v Accrington - postponed
Tranmere 2 Port Vale 2
Walsall 1 Macclesfield 1
Wrexham 2 Shrewsbury 1
THIS WEEK'S FIXTURES
Saturday 25th August 2012
Blackpool v Accrington
Bury v Morecambe
Fleetwood v Carlisle
Macclesfield v Rochdale
Oldham v Walsall
Port Vale v Wrexham
Preston v Burnley
Tranmere v Shrewsbury
BURNLEY'S GOALSCORERS
2: Luke Gallagher, Jason Gilchrist
1: Jamie Frost
CURRENT LEAGUE TABLE
Team
pld
w
d
l
f
a
pts

Carlisle United

2

2

0

0

5

0

6

Bury

2

2

0

0

6

2

6

Wrexham

2

1

1

0

2

1

4

Preston North End

2

1

0

1

5

3

3

Burnley

2

1

0

1

5

4

3

Shrewsbury Town

2

1

0

1

3

3

3

Port Vale

2

0

2

0

2

2

2

Macclesfield Town

2

0

2

0

1

1

2

Walsall

2

0

2

0

1

1

2

Tranmere Rovers

1

0

1

0

2

2

1

Morecambe

1

0

1

0

1

1

1

Fleetwood Town

2

0

1

1

2

4

1

Oldham Athletic

0

0

0

0

0

0

0

Rochdale

1

0

0

1

1

2

0

Accrington Stanley

1

0

0

1

0

3

0

Blackpool

2

0

0

2

1

8

0