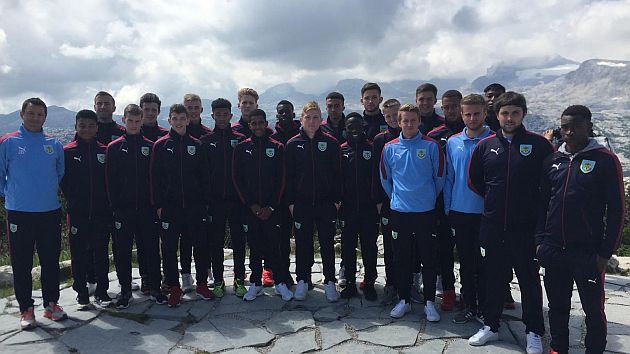 They kicked off the season against us with a 1-0 win at Burnley Belvedere and they've followed it up with home wins against Port Vale and Morecambe.
Right behind them are Fleetwood and Walsall who are both on seven points. Walsall are perennially in the leading positions but it is rare to see Fleetwood so high. Things have changed this season with the Cod Army at that level which has brought about the improvement. Academy manager Steve Carlin has moved on and been replaced by Stuart Murdoch who has brought in new coaches.
Fleetwood beat us three days ago and it was a second half performance that pleased their new youth coach Nathan Rooney after they'd disappointed him before half time.
The result has left us bottom of the league without a point. We're currently one point behind Rochdale, a team who usually do well, and a further point behind Port Vale, these being the only three teams without a win.
We're without a game this week. It's the first round of the Youth Alliance Cup and the Clarets have been given a bye. Our next league game will be at Rochdale, a surprise bottom of the table clash at this early stage, on Saturday 5th September. It's Rochdale's first home game of the season and will be played at Radcliffe Borough.
Below are all the results to date, followed by the next league fixtures and the current league table.
RESULTS
Saturday 8th August
BLACKPOOL 2 WIGAN 1
MORECAMBE 1 SHREWSBURY 4
PORT VALE 2 FLEETWOOD 2
WALSALL 2 ACCRINGTON 1
WREXHAM 3 PRESTON 1
Wednesday 12th August
BURNLEY 0 TRANMERE 1
Saturday 15th August
ACCRINGTON 1 BURY 2
CARLISLE 2 FLEETWOOD 5
MORECAMBE 4 ROCHDALE 3
PRESTON 0 WALSALL 0
SHREWSBURY 3 BURNLEY 1
TRANMERE 4 PORT VALE 1
WIGAN 5 WREXHAM 0
Saturday 22nd August
BLACKPOOL 0 ACCRINGTON 2
BURNLEY 0 FLEETWOOD 1
BURY 0 WIGAN 2
CARLISLE 0 PRESTON 1
PORT VALE 2 ROCHDALE 2
TRANMERE 4 MORECAMBE 0
WALSALL 2 SHREWSBURY 0
Tuesday 25th August
CARLISLE 2 ROCHDALE 0
FIXTURES
Saturday 5th September
ACCRINGTON v WREXHAM
FLEETWOOD v MORECAMBE
ROCHDALE v BURNLEY
SHREWSBURY v BURY
TRANMERE v CARLISE
WIGAN v PORT VALE
CURRENT LEAGUE TABLE
Team
pld
w
d
l
f
a
pts

TRANMERE ROVERS

3

2

0

0

9

1

9

FLEETWOOD TOWN

3

2

1

0

8

4

7

WALSALL

3

2

1

0

4

1

7

WIGAN ATHLETIC

3

1

0

1

8

2

6

SHREWSBURY TOWN

4

2

0

2

7

6

6

CARLISLE UNITED

4

2

0

2

6

6

6

PRESTON NORTH END

3

1

1

1

2

3

4

ACCRINGTON STANLEY

3

1

0

2

4

4

3

BLACKPOOL

2

1

0

1

2

3

3

BURY

2

1

0

1

2

3

3

WREXHAM

2

1

0

1

3

6

3

MORECAMBE

3

1

0

2

5

11

3

PORT VALE

3

0

2

1

5

8

2

ROCHDALE

3

0

1

2

5

8

1

BURNLEY

3

0

0

3

1

5

0