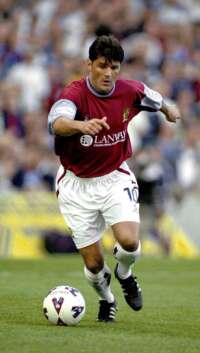 Andy Payton - scored first goal
It was a well-deserved win for the Clarets who fielded another foreign trialist, this time Spanish left-back Victor Torres Mestre.
Burnley opted for a mixture of youth and experience, with Nik and Payts returning after injury. Mitchell Thomas and Robbie Blake were given another opportunity to get up to match fitness, and 17 year-old Matthew O'Neill was given only his third start after impressive performances for the youth team.
As usual we lined up in 4-4-2: Nik Michopoulos; Mark McGregor (capt), Earl Davis, Mitchell Thomas, Victor Torres Mestre; Brad Maylett (Mark Rasmussen 84), Joel Pilkington, Andrew Waine, Matthew O'Neill; Andy Payton (Tony Ellis 60), Robbie Blake. Subs not used: Luigi Cennamo, Andrew Leeson, Anthony Shandran.
West Brom fielded a largely youthful team, with only Cummings and ex-Blackpool striker James Quinn with first team experience: Daniel Crane; Joshua Gowling, Warren Cummings, Mark Briggs, Ross Adams, Tamika Mkandawire, Matthew Turner, Matthew Collins, Daniel Carey-Bertram, James Quinn, Lloyd Dyer. Subs: Philip Midworth, Elliott Morris, Richard Adams, Paul Oakey, Simon Brown (none used).
West Brom started brightly and after only three minutes Nico had to tip over a fierce drive. However that was his last involvement in the game until ten minutes from time, as the Clarets then dominated totally. How he must have wished that he had brought along his bazouki during this period of inactivity to practise some of those particularly difficult chord changes he's been trying to master.
The Clarets were getting forward at every opportunity. Maylett was causing problems down the right, and O'Neill was taking on the defence at on the other flank growing in confidence as the game progressed. Payton and Blake were creating all sorts of difficulties for the Baggies' defence, holding up the ball well and laying it off to Waine and Pilkington who impressed yet again. Mitchell started somewhat shakily, but settled down to follow the example of his defensive colleague (and half his age) Earl Davis in having a solid game. McGregor had another sound game at right-back, and must be in contention for Dean West's place this Saturday.
But it was the newcomer, Torres Mestre, who took the eye, particularly in the first half. Comfortable on the ball and keen to go forward to support O'Neill, he put in an impressive performance. He was not required to do a great deal defensively, but when called upon he looked sound. His crossing though was a revelation. With pinpoint accuracy he whipped in a series of corners and crosses that had the Baggies bemused. He had obviously already impressed in training as at virtually every free kick and corner it was a case of "Leave it for Victor."
Indeed it was from one of his crosses that we took the lead in the 30th minute. The Baggies' goal had already led a charmed life with a series of scrambled clearances and near misses, but when Victor delivered another perfect cross, Andy Payton (who else?) made no mistake with a close range header. Torres Mestre almost scored just before half-time as firstly a thundering 25 yard free kick was somehow kept out by a despairing defender, and then within a minute his corner was cleared off the line by a Baggied boot.
The second half continued in the same vein, if a little more subdued. The Clarets dominated totally and the young Baggies, to give them credit, defended stubbornly. A superb pass from Blake put Maylett through but he shot just wide after 53 minutes, but for all our dominance that was the only real chance created for much of the half. Ellis replaced Payton after an hour giving rise to speculation as to whether Andy will start at Stockport.
With the game petering out in a 1-0 win and three welcome points we were all given a rude awakening as West Brom actually scored. We lost the ball in midfield leading to a quick break down the right, and when the ball was pulled back Quinn made his one positive contribution to the evening by hitting an excellent right foot half volley past our helpless bazouki playing goalie.
This seemed to wake the Clarets up as within a minute we were back in front. Maylett made a good run down the right; his cross was headed against a post by Ellis, and O'Neill following up pushed the ball over the line for his first goal at this level.
Rasmussen then replaced Maylett for an enjoyable ten-minute cameo performance during which he helped to create the third goal in the last minute. A free kick for West Brom was headed away firmly by Thomas to Waine. He sent Ras clear down the right, and in an almost carbon copy of the second his first time cross was turned in by Ellis. 3-1 and game over.
Like the first team the reserves have been struggling at home and had not won at the Turf since the 6-0 demolition of Port Vale in November. So it was good to get the three points which put them in a strong position in the table with seven games left. Two of those are next week, at home to Sheffield United on Monday and away at Birmingham (to be played at Solihull) on Wednesday.
Tonight's attendance was rather disappointing, although it was admittedly a foul night. Whatever the conditions on Monday, let's see if we can get another good turnout like the Preston game as the Supremo and his charges push for the championship.

Fixtures and results

League Table