Seven teams went into the games on Saturday having won on the opening day of the season, but two of them, Macclesfield and Blackpool were involved in a 0-0 draw between them, and both Carlisle and Oldham were beaten.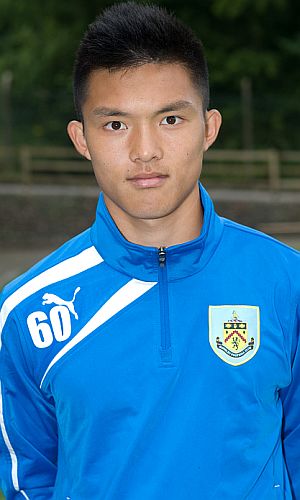 Kevin Ly scored Burnley's first in the win at Oldham
Carlisle went down to Rochdale and Oldham, who had won at Preston a week earlier, were beaten easily by Burnley whose season finally got underway.
Burnley won 3-0 at Oldham and the home club's academy manager, and former Claret, Tony Philliskirk admitted: "Sometimes you have to hold up your hands and say the best team won.
"They were quicker, stronger and Burnley set a benchmark for all of us to aspire to. After a good result at Preston, it was back to earth with a bump and an eye opener for a lot of our young players as to what it is all about."
With Rochdale having beaten Carlisle they've retained top spot on goal difference from Walsall, who inflicted another defeat on Preston, and Port Vale, winners against Bury.
Fleetwood and Tranmere were the two other clubs to start a week late and they, like Burnley, both won their opening fixtures against Shrewsbury and Morecambe. For Tranmere it marked a better start to the season than a year ago when they didn't win a game until February.
Wigan were the other winners, beating Wrexham who were last season's champions. Despite the positions of the first teams that was a surprise result; Wrexham are usually stronger than Wigan at this level.
Burnley have a tough one this week. We travel to Walsall and will be looking for a second win and inflicting a first defeat of the season on our opponents.
Last week's results and this week's fixtures are below along with the Burnley goalscorers this season, those from the win at Oldham, and the current league table.
LAST WEEK'S RESULTS
Saturday 17th August
MACCLESFIELD 0 BLACKPOOL 0
OLDHAM 0 BURNLEY 3
PORT VALE 5 BURY 3
ROCHDALE 3 CARLISLE 2
SHREWSBURY 0 FLEETWOOD 2
TRANMERE 1 MORECAMBE 0
WALSALL 4 PRESTON 2
WREXHAM 1 WIGAN 3
THIS WEEK'S FIXTURES
Saturday 24th August
MACCLESFIELD v FLEETWOOD
OLDHAM v MORECAMBE
PORT VALE v PRESTON
ROCHDALE v WIGAN - being played at Robin Park, Wigan
SHREWSBURY v ACCRINGTON
TRANMERE v BLACKPOOL
WALSALL v BURNLEY
WREXHAM v BURY
BURNLEY'S GOALSCORERS
1: KEVIN LY, NTUMBA MASSANKA, ALEX WHITMORE
CURRENT LEAGUE TABLE
Team
pld
w
d
l
f
a
pts

ROCHDALE

2

2

0

0

7

2

6

WALSALL

2

2

0

0

6

2

6

PORT VALE

2

2

0

0

8

5

6

MACCLESFIELD TOWN

2

1

1

0

2

1

4

BLACKPOOL

2

1

1

0

1

0

4

BURNLEY

1

1

0

0

3

0

3

FLEETWOOD TOWN

1

1

0

0

2

0

3

WIGAN ATHLETIC

2

1

0

1

5

4

3

TRANMERE ROVERS

1

1

0

0

1

0

3

CARLISLE UNITED

2

1

0

1

3

3

3

OLDHAM ATHLETIC

2

1

0

1

2

4

3

MORECAMBE

2

0

0

2

1

3

0

PRESTON NORTH END

2

0

0

2

3

6

0

WREXHAM

2

0

0

2

1

4

0

SHREWSBURY TOWN

2

0

0

2

0

3

0

BURY

2

0

0

2

3

7

0

ACCRINGTON STANLEY

1

0

0

1

0

4

0