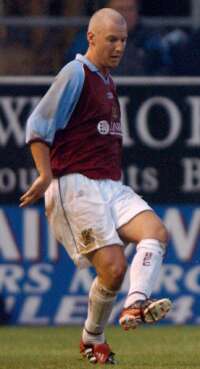 Lee Briscoe - we came closest to scoring from his free kicks
After an evenly-contested first half, Wolves scored in the first minute of the second, and from then on there was little doubt as to who would go on to take the points. The result leaves the Clarets firmly in the relegation places, and a fifth successive home defeat gives the Supremo plenty of food for thought in what are fast becoming worrying times for the second string.
Burnley, in 4-4-2, lined up: James Salisbury; Andrew Leeson, Drissa Diallo (Earl Davis 58), Ian Cox, Gordon Armstrong; Mark Rasmussen, Amandou Sankhara (Andrew Waine 46), Lee Briscoe (Paul Scott 58), Matthew O'Neill; Anthony Shandran, Andy Payton. Subs not used: Damien Hindle, Joel Pilkington.
The Wanderers, unbeaten in seven, included several players with both first-team and international experience, and would clearly present a much tougher task for the Clarets than in our Molineux victory back in August.
Wolves, in 4-4-2: Michael Oakes; Marc Edworthy, Chris Slater, Keith Andrews, Ludo Pollet (Sammy Clingan 7); Mark Clyde, Kevin Cooper (Jimmi Lee Jones 46), "Cousin" Michael Branch, Adam Proudlock, Ivar Ingimarsson, Graham Ward. Subs not used: Mark McChrystal, Lewis Solly, Kevin O'Connor.
Both teams started brightly with the ball zipping around at a blistering pace. The former Franchise midfielder Cooper was enjoying a lot of possession for Wolves, and produced several incisive passes. Sankhara, on trial for the Clarets and out to impress, was "getting stuck in", and looking quite promising in his attacking midfielder role.
However, neither side created a real chance throughout the first period. Payton and Shandran both forced saves from the experienced Oakes, although these were relatively routine efforts. Salisbury also had little in the way of a direct threat to deal with, and was protected well by the Clarets' defence, where Diallo in particular looked impressive. The former Mechelen stopper looked assured and commanding, and comfortably dealt with the Wolves' front pairing of Proudlock and Cousin Michael.
Burnley came closest to scoring via two Briscoe free-kicks, both awarded just outside the corner of the area. Brisser's whipped crosses were only inches away from conversion on both occasions, with the Wanderers' defence heaving a collective sigh of relief as the ball sped out for a goalkick.
Just before halftime, Sankhara, who had been "putting himself about a bit", earning a booking in the process, decided to head Keith Andrews' size 11 boot and inevitably came off worse. After treatment, the gallant midfielder returned to the fray clutching a large bandage to his wound, but it was clear he wouldn't be able to continue leaving the crowd to ponder that had those Frenchies had the brave Amandou present at Agincourt back in them days, then surely the whole course of European history would have been changed forever!
Stan, watching unusually from the dugout and not his lofty perch in the CFS, did not reappear for the second half, following the trialist's trip to hospital. Stan normally displays about as much sympathy towards trialists as Judge Jeffries on a bad hair day. Arthur apart, French, Canadian, Portuguese, it matters not; all seem to be summarily dispatched by a black-capped Stan before they have even had time to get to the dressing room. However, in his brief appearance, Sankhara had certainly done enough to impress and perhaps warrant another game at Rotherham next week. Alas though, a one-eyed midfielder is not going to be of much use in our current situation.
A goalless first half then, leaving the pitifully small gathering of 193 time to reflect on a reasonably entertaining encounter. (As usual during the interval, a selection of popular tunes from the Hit Parade was provided to amuse us, although I have to admit to a yearning for a return to those happy, halcyon halftimes of my youthful Bee Hole days, when the entire packed terracing would be simultaneously jigging and humming along contentedly to SingalongaMax.)
Unfortunately, the musical theme continued into the second half. Now, I am aware that the topic of goal music can arouse the wildest passions in even the meekest of fans, (witness this site's editor), but last night I feel that the subject was rather taken to extremes. For within a minute of the re-start, Wolves had kicked off, gone upfield, got a freekick and scored with a powerful Ingimarrson header, all to the accompaniment of the strains of some miserable dirge which was still emanating from the announcer's CD player. A truly surreal moment indeed, which seemed to leave both players and fans bemused.
This seemed to inspire Wolves though, who then went on to dominate much of the second half. Shandran was denied by a last-ditch tackle following a piece of quick thinking by O'Neill, and Earl had a late header just over, but these were largely isolated incidents. The midfield struggled after the departure of Sankhara, and it came as no real surprise when the visitors doubled their lead in the 72nd minute. Following a well-rehearsed corner, the unmarked Ingimarsson clipped in a fine half-volley from fifteen yards for his second of the night, thus effectively putting the game beyond the Clarets' reach.
So after a promising first half we were left ultimately with another home defeat. Perhaps it's fortunate that we now have two away games in a row, the first of which is next Wednesday at the Don Valley Stadium against fellow strugglers Rotherham. Of course there are still 11 games to go, but at least a point there is a must, as the prospect of relegation to Division One North West at the end of the season is unthinkable.