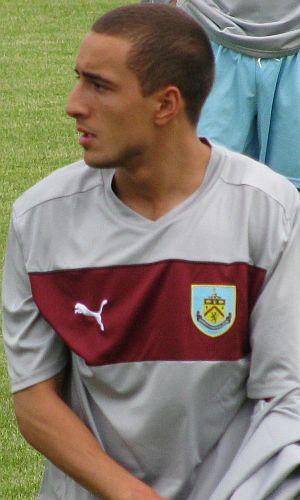 Mehdi Lazaar opened the scoring
Billed as a development squad, this looked as though it was going to be a tricky afternoon for our young team, but, with a few more additions from the first team squad it became, in the end, a comfortable victory.
New signings Luke O'Neill and George Porter, along with Jon Stewart, Kevin Long and Alex MacDonald joined the squad and all five started under and almost cloudless Derbyshire sky.
O'Neill played right back, with Long partnered by Tom Anderson in the centre of defence leaving Alex Coleman in the uncustomary position of left back. Steven Hewitt and Archie Love had the midfield positions with Alex MacDonald playing behind striker Joe Jackson with the team completed with Porter on the right and fit again Mehdi Lazaar on the left.
Alfreton, fielding some unnamed trialists, caused us some early problems but Stewart dealt with things to some applause from the home fans. They like him; they were very impressed with him when he was there on loan last season and we were informed by their PA announcer that they nicknamed the big goalkeeper 'The Beast', a name I'm sure he won't get at Burnley.
Having survived those first few minutes we took hold of the game with just ten minutes gone when Mehdi Lazaar put us in front. O'Neill and Porter linked up well down our right and the through ball was taken in his stride by Lazaar who finished well from around ten yards out.
For much of the remainder of the first half it was an even game with both sides having their moments. We probably should have added to that one goal but at the other end we could easily have conceded on a couple of occasions.
In just the third minute of the second half, we doubled that lead and never looked as though we might relinquish it in the remainder of the game. Archie Love, again in very good form in the midfield, crossed from the right and Jackson was on hand to get in front of the defender to head home well.
Over the next twenty minutes or so there was some really good football played but on 65 minutes we made four substitutions, introducing Aryn Williams, Jack Errington, Luke Gallagher and Adam Evans.
Such changes usually disrupts a game and that was the case here although ten minutes later we wrapped up the game when one of those subs, Evans, crossed from the left. Hewitt got the deftest of touches to it to place the ball right into the far bottom corner of the net.
Burnley immediately introduced Shay McCartan who, more than once, offered some pace down the right hand side, but the scoring was complete and a 3-0 win it was.
Alfreton's a bit of a trek, but it was really worth it. They were such a welcoming club and we were looked after very well before, during and after the game, and the cups of tea were excellent. They left a lasting impression and certainly some league clubs could learn from clubs like this just how to treat their visitors.
Well done Alfreton Town, but more so a big well done to our lads on another good performance and result.
The teams were;
Alfreton (from): Phil Barnes, Josh Law, Connor Franklin, Theo Streete, Dan Bradley, Anton Brown, Jake Moult, Paul Clayton, Nathan Arnold, Leigh Franks, Anthony Wilson, Daniel Meadows, Adam Quinn, Darran Kempson, Simon Russell, Matt Wilson plus four trialists.
Burnley: Jon Stewart, Luke O'Neill (Aryn Williams 65), Kevin Long (Jack Errington 65), Tom Anderson, Alex Coleman, Steven Hewitt, Archie Love, Alex MacDonald (Shay McCartan 75), George Porter (Luke Gallagher 65), Joe Jackson, Mehdi Lazaar (Adam Evans 65). Subs not used: Callum Jakovlevs, Jason Gilchrist.
Referee: Tim Walker (Belper).
Attendance: 366.