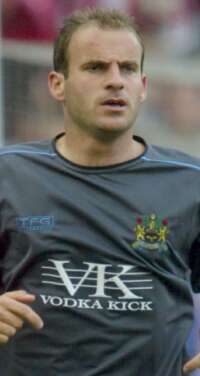 Dean West - clinched the win from the penalty spot
The victory though could not be enough to take us off the bottom of the league once Hull had won 3-1 yesterday at Sheffield Wednesday. It does though take us within two points of both them and Barnsley and improves our chances of avoiding the drop.
It was a familiar looking back line with three of them having been considered first choice for the first team until just a week ago but on this occasion they were to keep a clean sheet.
It was something of a tight first forty-five minutes with neither side creating too much in the way of chances with Joel Pilkington coming closest for the Clarets. Huddersfield hardly threatened and trialist keeper Greg Parker had little other than routine work to deal with.
The home side made a couple of changes at half time but it was Burnley who stepped up a gear in the second half and got themselves on top and it was no real surprise when we eventually took the lead on the hour.
Matt O'Neill got down the right and crossed for John Harrison who beat the defender comfortably before drilling a left foot shot into the bottom corner.
Huddersfield tried to push forward but they were unable to break us down and when Burnley lad Adnan Ahmed brought down the impressive Pilkington in the box it was Dean West who stepped up to score from the spot and complete the scoring.
So a win and Alan Moore played all but the last five minutes as he makes his way back to full fitness. With the win at Mansfield on Saturday at least 2004 has started better than the old year ended.
The teams were,
Huddersfield: Jacob Giles, Marty Booty, David Mirfin (James Hand 45), Ian Hughes (Joe Walsh 45), Aaron Hardy, Tyrone Thompson, Dwayne Mattis, Chris Holland, Adnan Ahmed, John Thorrington (John McAliskey 68), Fola Onibuji. Subs not used: Thomas Draper, Matthew Young.
Burnley: Greg Parker, Dean West, Ryan Townsend, Graham Branch, Mo Camara, Matt O'Neill, Joe Booth, Joel Pilkington, Alan Moore (Tom Ince 85), Alan Hunter (Marc Pugh 65), John Harrison (Rhys Carpenter 80). Subs not used: Michael Hale, Darrel Avery.
Burnley's Fixtures and Results
Current League Table