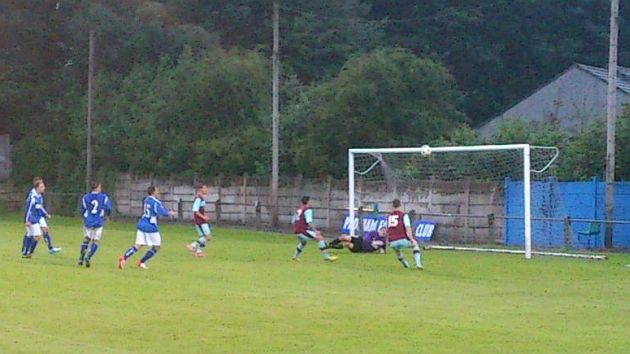 Adam Evans' shot comes off the bar only for Luke Gallagher (15) to head it back against the bar
thanks to jubbly for use of the picture
The young Burnley team was boosted by two trialists for this game. Defender Joe Walsh was released by Swansea at the end of last season whilst John Goddard, who played in midfield, was not retained by Reading. Neither had played at first team level for their respective clubs but Walsh has featured at under-21 level for Wales.
Whilst the rain fell in the South West, it had been fine here until not too long before kick off, leaving us with a miserable wet evening at the Arbories with most of the 208 inside the ground looking for shelter.
There wasn't too much to brighten things up in the first half either. Playing with three central defenders with Aryn Williams and Adam Evans at wing back, we struggled to find any cohesion and in truth there never looked likely to be a goal during that first 45 minutes and when one did come on the half hour it was a disappointing goal to give away.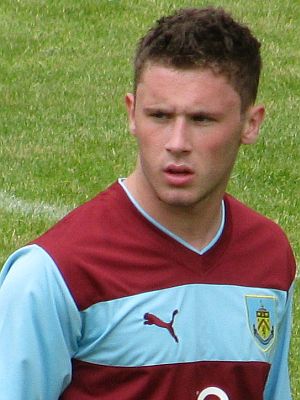 Late winner from Shay McCartan
Goalkeeper Conor Mitchell had the ball at his feet but allowed Padiham's Ben Allen to come in and nick it away from him before sliding it into the empty net. That was about it and the players went in with that fortuitous goal separating the teams at the interval.
The second half was totally different. We got on top from almost the first whistle and virtually the whole half was spent with Burnley on the attack. But how well Padiham defended. They got tackles in, they closed us down and on countless occasions they got good blocks in.
So often we came desperately close to getting an equaliser. Aryn Williams hit a cross shot just wide, Shay McCartan went for a spectacular over head kick, crosses fizzed across the box from both wings, but Padiham held firm.
And you sensed it was their night when Adam Evans hit a superb shot from wide on the left. They saw it come off the bar and then could only watch as substitute Luke Gallagher headed the rebounding ball back onto the bar.
Then, with fourteen minutes remaining, Goddard drew us level with a shot from distance and that led to a frantic finale as the Clarets did all but score. That was until the 89th minute when McCartan latched on to a loose ball in the box, following another block, and hit home to give us the win.
Burnley lined up: Conor Mitchell, Aryn Williams, Tom Anderson, Alex Coleman (Jack Errington), Joe Walsh, Adam Evans, John Goddard, Archie Love, Shay McCartan, Mehdi Lazaar (Luke Gallagher), Joe Jackson (Jason Gilchrist). Sub not used: Callum Jakovlevs.