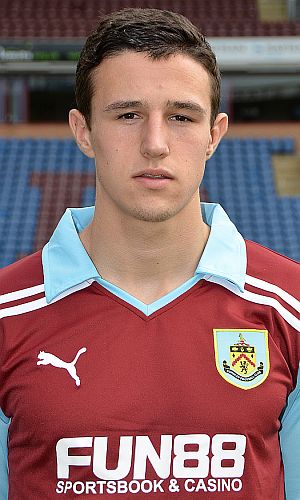 First goal came from Wes Fletcher
It's 4th May, the first team ended their season a week ago, but tonight it felt as though we were back in the middle of winter and I would think the only time I've been colder this season on the Turf was for the home game against Peterborough back in February, a day I don't choose to remember.
It seemed incredible that we were checking close of play cricket scores ahead of kick off, with those of us of the red rose persuasion wishing we hadn't, and I certainly feel for those intending to take in some live cricket over the weekend.
It was biting cold, and with only a smattering of people in the Bob Lord Stand it was hardly going to get much better for a game where there was really nothing to play for, not even league placings.
Burnley again had a disjointed looking side. Tonight's starting line up included five members of the youth squad, including Ben Woodhead who was playing his last game for the club in goal, three development squad players and three trialists. On the bench were another two trialists and Elliott Gordon who is a member of our under-15 squad.
It didn't start very well for us. Steven Hewitt made an early mistake that let in Macc's Tom Fisher and he made no mistake with a shot into the corner. That was in only the third minute but we did threaten to draw level during a first half when we had the edge in play.
Wes Fletcher twice came close. On the first occasion he looked a certain scorer but forced a good save from Macclesfield goalkeeper Andrew Mills. His next effort went wide but there was a clear touch from the 'keeper although the referee awarded a goal kick.
The nearest we did come to getting an equaliser was when Joe Jackson got into a clear position on the right hand side of the box. The angle looked impossible but he somehow managed to hit the inside of the far post only for the ball to bounce out rather than in.
The defining moment in the first half was the third minute goal and the third minute of the second half also proved to be crucial as our visitors found themselves down to ten men. Michael Thomas fouled Mehdi Lazaar who reacted. That led to Thomas pushing over the Clarets' wide man who went down somewhat theatrically. Lazaar got a yellow card, Thomas saw red.
It made little difference and if we'd been disappointing in the first half then it was certainly worse in the second. It could have got even worse too but Woodhead saved brilliantly to deny Fisher a second.
With a defeat staring us in the face we did finally equalise with twelve minutes remaining and rightly it was Fletcher, our best player, who scored it, hitting a rising shot into the top corner. It was an excellent finish.
It took a miraculous block from Alex Coleman to keep us level a minute later after Woodhead had saved a free kick and that seemed to ensure the spoils would be shared. Then we took the game away from Macclesfield with two late goals.
Firstly, Gordon, the youngest player on the pitch, crossed for Jackson to finish smartly and then, in stoppage time, Fletcher got clear down the left, played the ball across and Macclesfield's Darnell Smith could do no more than turn it into his own goal.
The referee then mercifully brought the game and the season to an end as the crowd of 192 rushed home to get out of the cold.
The teams were;
Burnley: Ben Woodhead, Aryn Williams (Ellis Gordon), Alex Coleman, Stephen Folan, Archie Love, Mehdi Lazaar (Warrick Charlton 65), Steven Hewitt, Joe McCann, John McReady (Jordan Junior Archer 65), Wes Fletcher, Joe Jackson. Subs not used: Josh Cook, Luke Conlan.
Macclesfield: Andrew Mills, Josh Green, Keiron Kenny, Michael Thomas, Jack Lane, Matthew Harris (Darnell Smith 72), Joel Swift, Paul Lewis, James Foley, Greg Daniels, Tom Fisher. Subs not used: Tom Stott, George Whiteoak.
Attendance: 192.