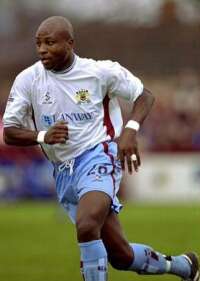 Arthur - less than impressive
Had the football calendar for May 2
nd
, 1960 read Burnley v Manchester City and not vice versa then our title dreams would have been shattered after a 6-0 drubbing (including four own goals from Jimmy Mac), and Wolves fans would have been dancing along Brunshaw Road instead.
So it was tonight at Turf Moor, as with the opportunity of going top for the first time this season, Ronnie Jepson's reserves blew it big style with a thoroughly deserved 2-0 defeat.
A close game was anticipated as both teams had each only suffered three defeats all season. Both teams fielded a mixture of youth and experience. Both teams could go top with a win. That, however, is where the comparisons end as Burnley were outplayed in nearly every department by a strong-running, quick-passing, quick-thinking, well-organised Blades side, seven members of which were products of the academy at Bramall Lane. Burnley, on the other hand, simply hadn't got a clue.
What was particularly depressing about this display was not that we lost, but the performances of several of the fringe and regular first teamers who, one might have thought, would have been out to impress at all costs the watching Stan. Almost without exception they were dismal. The youngsters around them must have wondered what the hell was going on.
The almost surreal nature of the evening's proceedings was set when the captains met for the toss up. I was under the impression that it was common footballing practice to have two captains, one per side. Not so! We had two: Lenny and Arthur. After close inspection it transpired that Monsieur Gnohéré was proudly sporting the armband for the first time in a Claret shirt. Lenny, after his pre-season honeymoon in Paris (mad, romantic fool that he is) had clearly spent all his time there learning the lingo, and was now our official interpreter. "Pile ou face?" he snarled at Arthur's opposite, Lee Sandford. "Er…avez-vous un cuppa?," quaked the former Stoke strongman. For Burnley, it was downhill from then on.
The Blades dominated from the start with neat, creative football. Burnley, on the other hand, couldn't string two passes together. After 18 minutes the inevitable happened, fittingly in a bizarrely inept fashion. Maylett, whose only contribution so far had been to get booked for a rash challenge on Santos, lost possession in a strong tackle in midfield. The ball ballooned forward towards the Clarets' goal only for Lui to come racing out in his headless chicken mode. Needless to say he totally misjudged the bounce, leaving young Killeen the difficult, but ultimately successful, task of putting the ball into an empty net whilst doubled up with laughter.
The half continued in similar fashion. Alan Moore, twisting and turning like a twisty-turny thing, was seeing a lot of the ball, but unfortunately was not seeing his teammates; Blake, in keeping with his haircut, was doing a more than passable impression of an early 90s breakdancer, continually spinning helplessly on the floor; Maylett looked like a gangly, uncoordinated youth; Payton touched the ball twice; Arthur had all the grace of a pre-weepy-ending Dumbo; and as for Lenny, well….
Mystery man Papadopoulos replaced Payton for the second half, and within 90 seconds had missed one and a half good chances. But at least he was in a position to miss them!!!! The Turf Moor faithful's hopes were raised as we had our best period of the match, not difficult admittedly, considering what had gone before. But the Blades issued a timely reminder of their potential in the 62nd minute when, after Moore lost possession, Mallon thwacked a 25-yarder against the bar.
On 70 minutes exit Stan, with the face of a Rip Van Winkle who has suddenly woken up to find that the Tories are still in power. He was the lucky one, as he missed the second goal eight minutes later. The Blades defence easily cleared a free kick; substitute Ward raced upfield and crossed for Killeen to slot past the despairing Lui whilst most of our team watched admiringly from the opposite penalty box.
Waine replaced Johnrose to renew the usual central midfield pairing with Pilkington, clearly to the latter's relief, and at last we started to put some passes together. However de Vogt in the Blades' goal, having been bored out of his mind for the previous 80 minutes, now decided it was time he showed us what he could do. The Dutch Clarets' former hero from NAC Breda saved superbly from Papadopoulos twice, Ellis and Davis to complete a night of frustration.
A dismal evening then, from which it was difficult to draw any positives. Earl Davis, although not on top form, had a good game against the lively Sheffield forwards, giving rise to the thought that perhaps we should have had three captains instead of just the two. John Williamson, returning from injury, could also feel that he had justified his place. 17 year-old Joel Pilkington too, although not as effective as usual, never gave up in his attempt to get the side going. But some of the more experienced players are going to have to show a lot more commitment if they are to regain their place in the first team.
On Wednesday night it's off to Solihull Borough's Damson Lane ground for Birmingham away. Let's hope this visit will be fruitful. Team selection will be interesting, bearing in mind the Preston game and some of the miserable performances tonight.
One person who won't be playing is last week's impressive trialist Victor Torres Mestre. No sign of him tonight, but then there wouldn't have been. He was playing for Leicester reserves instead.
Burnley, in 4-4-2ish: Luigi Cennamo; Andrew Leeson, Earl Davis, Arthur Gnohéré (capt 1), John Williamson; Brad Maylett, Joel Pilkington, Lenny Johnrose (capt 2) (Andrew Waine 79), Alan Moore; Andy Payton (Dimitri Papadopoulos 46), Robbie Blake (Tony Ellis 63). Subs not used: James Salisbury, Mark Rasmussen.
Sheffield United: Wilko de Vogt, Ben Doane, Shane Nicholson, Lee Sandford (Benoît Croissant 75), Colin Cryan, Tyrone Thompson, Ryan Mallon, Georges Santos (Mark Ward 70), Grant Smith, Lewis Killeen (Kevan Hunt 84), Adam Burley. Subs not used: David Colvin, Lee Featherstone.
Attendance: not many.