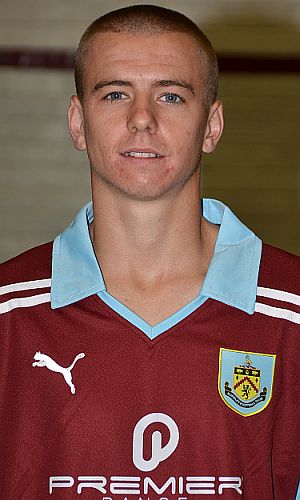 Steven Hewitt impressed after coming on as a sub
We were throwing everything at Oldham in the last few minutes to try to salvage a point but it would have been a very fortunate point had we won it following a first half that had seen us fall three goals behind.
There really could be no complaints at half time at the scoreline. A strong looking Burnley team could find few positives in a 45 minutes in which Oldham fully deserved their lead. We had precious little to offer going forward while at the other end we were gifting them goals.
The first came on 19 minutes. Danny Lafferty, who had a decent first game in Burnley colours, cleared his lines at the expense of a corner but the defending from the corner was awful as Matt Smith was allowed to head the ball in totally unmarked.
We did respond and Martin Paterson should have done better with one effort but any thoughts of an equaliser were soon ruled out as Oldham hit us with two more goals in quick succession either side of the half hour.
The first, unfortunately, was down to Brian Jensen. A shot from distance went straight at him but he failed to deal with it allowing Kirk Millar to score from close range. Within four minutes it was 3-0 as Oldham got the ball down their left, played it into the box where Smith got his second far too easily.
It could have been worse too. Jensen looked beaten again but clawed the ball out of the top corner and over the bar and by half time the shell shocked Clarets looked a well beaten side.
We did improve in the second half and we needed to. Paterson came close to a goal before Ings got his second reserve team goal just before the hour. Zavon Hines played the ball into the box. It wasn't the best for Ings as it dropped behind him but he got onto it to place it wide of the Oldham keeper with a spectacular looking effort.
Soon after we made a double substitution and it was this, particularly the introduction of Steven Hewitt for the subdued Joe McKee, that made the difference. Suddenly we were very much on the front foot and taking the game to Oldham and you sensed there might be a comeback on the cards.
The other two substitutes, Cameron Howieson and Shay McCartan, both had opportunities as did Hines but it probably needed a second goal much earlier than the 88th minute when Hines placed a shot right into the bottom right hand corner from the edge of the box.
We pushed forward and came very close to an equaliser as Lafferty stormed through down the left wing, but it wasn't to be and the game ended with the Clarets losing for the first time since the opening game of the season against Preston.
It had been much better in the second half and I thought the second half performance of Hewitt and from Wilson, in an unaccustomed right back position, stood out.
The teams were;
Burnley: Brian Jensen, Ross Wilson, Tom Anderson, Brian Easton, Danny Lafferty, Zavon Hines, Marvin Bartley (Shay McCartan 75), Joe McKee (Steven Hewitt 63), Dominic Knowles, Danny Ings, Martin Paterson (Cameron Howieson 63). Subs not used: Ben Woodhead, Alex Coleman.
Oldham: Dean Bouzanis, Sam Fitzgerald, David Mellor, Karim Rodgers, Matt Carr, Alex Parkes, Kirk Millar (Ryan Burns 67), Carl Winchester, Reuben Reid (Connor Hughes 60), Matt Smith, Josh Parker. Subs not used: Luke Simpson, Jack Laird, Joe Cooper.