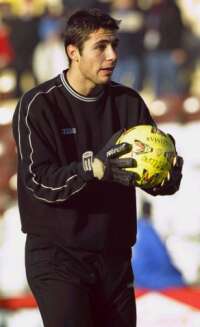 Lui - beaten seven times
Due to our seemingly ever-increasing injury list the few remaining first team squad players available weren't risked, and instead The Supremo opted to field what was virtually the youth team with 12 of the 16 players from those ranks. However, this should not take anything away from Wrexham who thoroughly deserved the margin of their victory showing no mercy, particularly in the last ten minutes.
Mitchell Thomas returned after a lengthy absence to captain the side, and Damien Hindle's two goals for the youth team on Saturday earned him a place up front for only his second reserve start. But of most interest to Clarets fans was the appearance on trial of former Ukrainian international midfielder Sergei Kandaurov, arriving at the Racecourse via Benfica and Bolton.
Burnley, as usual, lined up in 4-4-2: Luigi Cennamo; Andrew Leeson, Earl Davis, Mitchell Thomas (Jonathon Leary 50), Paul Scott; Mark Rasmussen, Sergei Kandaurov, Joel Pilkington, Matthew O'Neill (Andrew Waine 69); Anthony Shandran, Damien Hindle. Subs not used: James Salisbury, Richard Chaplow, Sean Blakey.
Wrexham, although bottom of the table, had won recently at West Brom and Tranmere (in the Cup), and had lost narrowly at Birmingham having apparently outplayed the home team, according to Blues themselves, so they were clearly in a confident mood.
With experienced players such as Martyn Chalk and Trinidad and Tobago internationals Carlos Edwards and Dennis Lawrence in the side, they immediately laid siege to the Clarets goal as they swarmed forward in an attacking 4-3-3 formation. Edwards, who was outstanding throughout, was causing all sorts of problems down the right and after only five minutes hit the post from a narrow angle. The pattern was set for the night, and in the 13th minute Wrexham took the lead when the prolific Lee Trundle fired home powerfully from the edge of the area following a well-worked free kick. Lui then saved well from Trundle, a situation that was to be repeated on several occasions during the match.
In contrast to Wrexham's direct approach Burnley were far too ponderous on the ball preferring crab-like sideways movement instead. Kandaurov produced a couple of fine square passes, but there was little incisiveness to his play. It came as something of a shock when, after our first decent move we equalised after 24 minutes. Leeson's cross wasn't cleared and Hindle's soft shot was deflected past Welsh U-21 international goalie Walsh.
This was only a temporary blip in the one-way traffic though as in the space of a few minutes Davis' last-ditch tackle saved Thomas' blushes after a truly dreadful "pass", Lui saved from Barrett, Scott blocked a certain goal and Williams shot just wide. Another Thomas mistake let in Barrett again, but he shot over, before the inevitable arrived on the stroke of halftime when following yet another great run and cross from Edwards, Moody scored from close in.
Exit the teams, and with Ronnie's face redder than Wrexham's shirts it was highly likely that the dressing room crockery was in for a hammering!
No changes for the restart, and whatever The Supremo said seemed to work for in the next fifteen minutes we enjoyed our best spell of the match. Instead of dithering about the ball was moved forward quickly and effectively, and for the first time the Wrexham defence was looking troubled. Even the 6'7" Lawrence, who makes beanpole Peter Crouch look like Arnold Schwarzenegger, began to struggle.
Shandran in quick succession headed against the post and had another effort cleared off the line. Leary came on for Thomas and went to right back, with Leeson moving to central defence. This meant that the captain's armband was passed to 17 year old Joel Pilkington, a well-deserved recognition of his performances this season.
Wrexham weathered the sort of storm however and soon it was business as usual as Lui twice saved well from Edwards. But halfway through the second period two incidents occurred which effectively sealed the outcome of the game. First Trundle was booked following a mêlée with the ball stuck under a Burnley player; however what the referee did not see was Chalk kicking the Burnley player whilst he was on the ground. Chalk, sent off twice already this season, nonchalantly made his way back to his position whilst the ref was dealing with Trundle. Ronnie though had not missed the incident and made his feelings known to Chalk in no uncertain manner. Then, two minutes later and with Burnley in a promising position, O'Neill crossed poorly, Wrexham raced upfield and with the defence caught out Williams made it 3-1.
Game over. Well, not exactly unfortunately. Pilkington sent a delightful 20 yard chip against the bar but that was only the signal for another onslaught on the Clarets' goal. Trundle hit the post before Wrexham scored four times in six minutes. First Lui allowed The Beanpole to beat him in the air to a cross in the 82nd minute, and Evans' resulting weak header somehow evaded Leeson on the line for 4-1. 84 minutes and it was 5-1 when Trundle lobbed Lui. 86 minutes and a twenty-yarder from Chalk made it 6-1. 88 minutes, and Kandaurov made his sole effective contribution of the second half when he passed straight to Edwards who beat Lui from 20 yards: 7-1. There was still time though for Lui to make yet another good save: Edwards again.
So a thrashing, and no real complaints. The youngsters to their credit kept going and in fairness had no luck at all on the night. Lui produced several excellent saves, although his kicking was abysmal. The defence never came to terms with Trundle and particularly Carlos Edwards who at 23 looks like real prospect. Pilkington as ever was tireless in midfield, which could not be said of his more illustrious colleague Sergei Kandaurov who resembled nothing so much as Mark Yates on a bad day. I'd be surprised if he's not already on the plane back to Portugal.
One final point. For 20p not only did we get a teamsheet but a four page A5 official programme, or Rhaglen Swyddogol, packed with information about both reserve teams including a "Croeso Burnley" section, in-depth reports of previous reserve games, match and player statistics and an up to date league table. All this for a "crowd" of approximately 100 people. Why can't we do something similar for home reserve games? The only extra information we got for the Tranmere game was that Bertie Bee calendars are "now only £2.50, whilst stocks last!" (ie until 2020).
Come on Media and PR department; what are you waiting for?

Fixtures and Results

Avon Insurance League Table