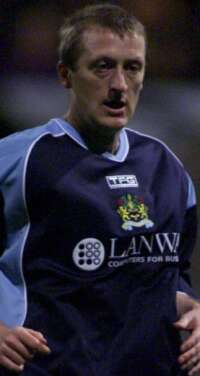 Tony Grant - one of the first team squad in tonight's reserve team
There was no doubt that the game would be going ahead with the Turf Moor lights on and Papal white smoke billowing from the Bob Lord Stand indicating that the under soil heating was on.
It is a pity though that the heating doesn't stretch to the Bob Lord Stand itself and for those few of us who braved the cold weather there was to be nothing to warm us up all night. It was a few too and certainly the effects of "Roll up for the Reserves" a year ago has well and truly faded away.
The game got off to a frantic start and within the first few minutes we found ourselves behind and then level. Preston took the lead with the first real attack of the game. Just about everyone in the ground could see that Joe O'Neill's effort was going in except keeper James Salisbury who misjudged it and watched it sail in.
We went straight down and equalised. It was Maylett who scored our goal turning the ball in from close range after a right wing cross had been knocked down. Suddenly we thought we might be set for a classic. It was not to be.
There followed a fairly even spell but during this period I found myself somewhat concerned with the performance of the referee, the aptly named Mr. Pollock (I am not aware of a mis-print on the team sheet) who I think was attending his first ever football match.
We make pleas for consistency from our referees and he was consistent, consistently wrong. I've never quite seen a ref get so much wrong. But with each bad decision he either shook or nodded his head that suggested he does Churchill Insurance adverts in his spare time.
He dropped a few Pollocks and was certainly not prepared to play an advantage no matter what the circumstances and twice he stopped our trialist Peter Douala in full flow to bring him back for a Burnley free kick.
We also had a shout for a penalty that he turned away, no it wasn't a shout it was just blatant as Ian Moore was held. But it received nothing but a shake of the head and presumably he said, "Oh no no no no no".
Douala (or is it Doala?) impressed in the early stages, although he did sport the strangest of hair styles. He came close to scoring after he cut inside after one mazy run but Tepi Moilanen saved well. He didn't stay long though and was replaced by Matthew O'Neill six minutes from half time. By this time we had already made one other substitution, seen James Salisbury make a couple of outstanding saves and were also 3-1 down.
Stretch Armstrong, making a rare appearance, lasted just over half an hour and was replaced by Andrew Waine. He looked far from happy as he came off and spoke to Ronnie Jepson before he made his way back into the warmth of the dressing room. Jeppo was once again in his winter attire of gloves and shorts, a somewhat curious combination.
O'Neill made his way on as we were about to kick off after Preston's 3rd goal which was scored, as were the 1st and the 2nd, by his brother Joe who, apart from scoring all three goals, had an impressive game.
We had a couple of half hearted attempts to try and reduce the arrears and Papadopoulos was twice spoken to by the nodding dog for appearing to go down too easily.
Half time came and we were given around 15 minutes to try and find some warmth, our attempts failed and we had to make do with a cup of coffee.
The first half had been reasonably entertaining but Preston were without doubt the better of the two sides. The second half though saw the Clarets having most of the play without ever really threatening to get back into the game although Preston did have some clear opportunities to increase their lead.
We did have a few chances ourselves but North End keeper Moilanen was hardly tested other than having to make routine saves until the last ten minutes, his best save coming from substitute Anthony Shandran.
It was Shandran's first competitive football this season. He has been out with a stress fracture but came on for the ineffective Ian Moore. But Moore was not the only one who made less than a major contribution.
Stan played a number of his first team squad and if the idea was to get them through 90 minutes then it was achieved. If it was in the hope that they would find some form then it was not particularly successful.
It is unfair to single out Moore, it's just that he was the one substituted. But Arthur and Coxy looked far from secure at the back and Tony Grant hardly stamped his authority on the midfield.
Mr. Pollock was to get in on the act though before proceedings drew to a close. He had shown just one yellow card in the first half and that to Preston's Alan McCormack. It was a harsh decision but it was to prove costly for McCormack who saw the same yellow card again in the second half accompanied this time with the red card.
The player had a laugh and a joke about it as he made his way down the touchline knowing that he would be beating all his teammates back into the warmth.
At the end of the day, and despite coming back at them in the second half, we could have no complaints about the result. Preston were better than us. We can only hope that everyone has come through without injury with the problems mounting up ahead of the game at Gillingham on Saturday.
The teams were,
Burnley: James Salisbury, Andy Leeson, Ian Cox, Arthur Gnohere, Mark McGregor, Peter Douala (Matty O'Neill 39), Gordon Armstrong (Andrew Waine 33), Tony Grant, Brad Maylett, Ian Moore (Anthony Shandran 73), Dimitri Papadopoulos.
Preston: Tepi Moilanen, Tepi Moilanen, Marlon Broomes, Paul Carvill, Kyle Armstrong, David Elebert, Alan McCormack, Iain Anderson, Michael Brown, Pawel Abbott (Michael Kewley 50), Joe O'Neill, John Bailey. Subs not used: Andrew Lonergan, George Kurwen, Darren Kempson, Ben Kitchen.
Referee: Mr. Pollock (Churchill Insurance – Oh yes).
Attendance: A pretty miserable (and cold) 213.