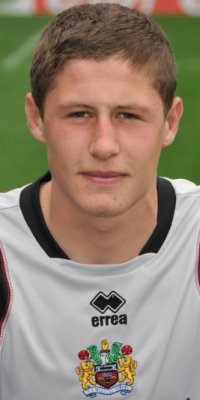 Stef Ritchie - will be in goal
A home game against managerless Norwich awaits the winners, but this will be a tough game for the lads against an academy side who are described as a big, strong, physical and competitive side.
The only defeat our team have suffered this season came in the Youth Alliance Cup, and that was via a penalty shoot out. Apart from a league draw at Blackpool we've won every other game and have already beaten West Brom in this competition.
One of the problems facing the team tonight is the fact that they will be a bit rusty. Apart from the win against West Brom at the Turf we've not played a game since a win against Accrington at the end of November.
We go into the game without long term injury victim Ben Hoskin, but there's good news on Ben with a return to full training imminent. Also first year apprentices Danny McDonald (goalkeeper) and Jake McEneaney (left-back) are both ruled out with injury tonight. That means a thirteen player squad boosted by three Centre of Excellence under-16 players.
Coach Terry Pashley will select from: Stef Ritchie, Dan Brown, Nik Kudiersky, Chris Lynch, Dil Chaggar, Dominic Knowles, Chris Anderson, Alex-Ray Harvey, Michael King, James Craggs, Wes Fletcher, Oliver Devanney, Liam Newman, Ben Woodhead, Ed Williams, James Taylor.
It's a real shame the club couldn't see fit to play this game on the Turf and it goes ahead tonight at Accrington's Fraser Eagle, kick off 7:00 p.m. Please go and give the lads your support if you can make it. Admission is just £3 Adults, £1 Concessions.