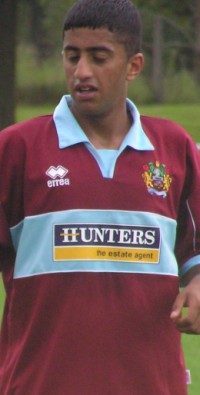 Ali Akbar - scored at Nelson

It was a blank Saturday right across the Youth Alliance League a week ago and that enabled the youngsters to make a rare Burnley appearance at Nelson in a game that ended 3-3 after we had led 1-0 and 3-1.



This Saturday sees us back in league action and it couldn't be tougher, we host an Oldham side who have won both their games and scored no fewer than fifteen goals in the process, the biggest of the wins coming a couple of weeks ago when they beat Shrewsbury 11-0.



There's been no reserve game either for Burnley, this week has been cup week and yet again the Clarets have not entered the competition. The cup gets underway with group matches, four teams in each group, and over the last few days clubs have been playing their first group matches.



Sheffield United have such a big squad that they can field two reserve teams and their 'A' reserve team recorded the biggest win of the week, beating Grimsby 5-1. They were able to field the likes of Derek Geary, Craig Armstrong, Rob Kozluk, Lilian Nalis, Paul Shaw and Michael Tonge, none of whom made the first team on the Monday.



The results from the Pontin's Cup were:



Group 1

Hartlepool 1 Sheffield Wednesday 1

Nott'm Forest v Scunthorpe postponed, Scunthorpe could not field a team



Group 2

Hull 3 Huddersfield 0

Sheffield United A 5 Grimsby 2



Group 3

Tranmere 2 Sheffield United B 1

Blackpool 0 Rotherham 0



Group 4

Rochdale 1 Bradford City 1

Shrewsbury 3 Wrexham 3



League action gets back underway this week in the Pontin's League and the Clarets entertain Wrexham on Wednesday at Accrington. We are currently close to the bottom of the league having had three points deducted for a breach of competition rules but just like the youth team play the league leaders. Wrexham have maximum points from their two games.



Click below to see the respective league tables and Burnley's fixtures and results.