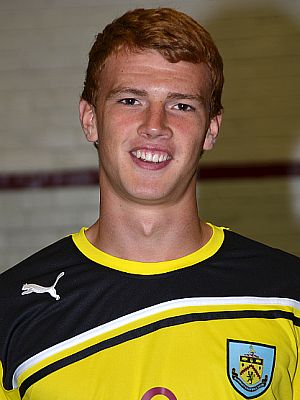 Josh Cook plays in goal
As it stands right now, Burnley have a two point lead over Walsall at the top of the league but our opponents tomorrow have a game in hand and are unbeaten all season.
They've won 12 and drawn 4 of their 16 games and the Clarets have recorded 14 wins and 3 defeats in 17, those three defeats coming in successive games in September.
Midfielder Steven Hewitt, winger Adam Evans and striker Jason Gilchrist are all rested while captain Tom Anderson is again ruled out; the Burnley born central defender is likely to miss out on both the Blackburn games too because of illness.
Jack Errington again stands in for Anderson and Luke Gallagher will partner Archie Love in midfield. Alex Mullin plays for Evans and up front there could be a game for Sam Wilson, the Eastleigh FC youngster currently on trial who made a substitute appearance for the reserves.
Walsall are one of the teams we only play once. Their four draws have come at home to Wigan and Tranmere, both 0-0, and away against Wrexham and Rochdale, 1-1 and 0-0. Recently they've been amongst the goals and have scored 16 in winning their last three games.
Coach Terry Pashley said ahead of the game: It's great that we are going into the last six weeks of the season and every game is a big game.
"The cup tie against Blackburn is coming up but the lads have got their eye on this one. They want to try and open up a gap."
The game will kick off tomorrow morning at 11:00 a.m. at the Birmingham County FA Ground in Ray Hall Lane, Great Barr.
Burnley will line up: Josh Cook, Aryn Williams, Alex Coleman, Jack Errington, Luke Conlan, Cameron Howieson, Luke Gallagher, Archie Love, Alex Mullin, Sam Wilson, Shay McCartan. Subs: Ben Woodhead, Steven Hewitt, Adam Evans, Jason Gilchrist.