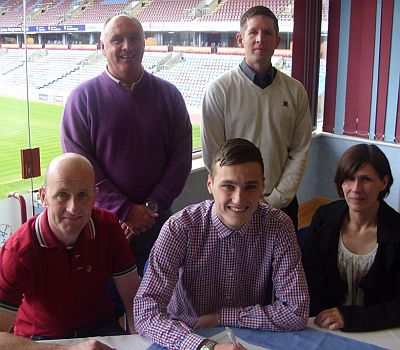 One of the new boys, Conor Mitchell, signs in at Turf Moor
It's nine new scholars in total with five of them already well known to youth team watchers having been involved during last season.
Goalkeeper Callum Jakovlevs was a familiar figure with the youth team last season, acting as cover for goalkeepers Ben Woodhead and Josh Cook, while all of Charlie Holt (right back), Nathan Lowe (midfielder), Luke Daly (midfielder) and Lewis Nuttall (forward) featured during the season, and Daly, a former Manchester United academy player, getting his opportunity in the FA Youth Cup.
Three of the four new boys are from Ireland with the fourth is following in well tried football footsteps of having played for Wallsend Boys Club, a club where both Ray Hankin and Brian Laws played along with current youth player Jack Errington.
The new North Easterner is central defender Alex Whitmore and arriving from Northern Ireland with Mitchell is Cliftonville defender Cameron Dummigan, who has played for Northern Ireland at schoolboy under 16 level.
The numbers are made up by another under-16 international from the Republic of Ireland. He's Evan Galvin a midfielder who has signed from Cork Corinthians.
Youth team coach Terry Pashley said: "This is where it starts for them. We have identified them as good young prospects and we are looking forward to working with them and helping them fulfil their potential to go on and have successful careers, hopefully here at Burnley."
They will join second year scholars Luke Gallagher and Jason Gilchrist while our three youngest professionals, Luke Conlan, Jack Errington and Cameron Howieson will also be available to play in the youth team.
The new boys signed on the dotted line yesterday before having an induction day today, after which they set about finding their way around town. Training starts for them tomorrow and Clarets Mad wish them all the very best of luck at Turf Moor and in their football careers.