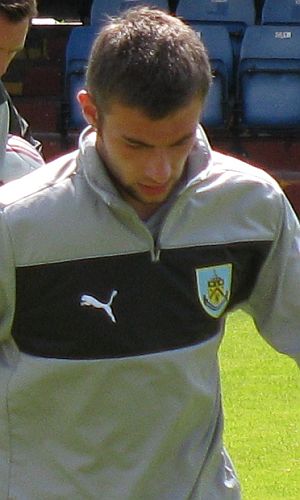 Alex Coleman, also played in this game last year
Our young players have already faced trips to Mossley, Barrow and Alfreton in the last two and a half weeks. On Saturday they play at Droylsden but this evening comes what is now becoming an annual fixture at Padiham.
It's good to see too. I think we should be playing games like this, helping to boost the coffers of the local clubs in non-league football. It's a shame that it has clashed this year with the first team trip to the South West but hopefully there will still be a good attendance at the Arbories.
One thing for sure, the Burnley team will look nothing like the one that played there last year and won 2-0 with goals from Steven Hewitt and Joe McKee.
Only Hewitt and Alex Coleman of that starting eleven remain at Turf Moor whilst Tom Anderson is the only one of the four substitutes who remains at Burnley.
Alongside Hewitt and Coleman were seven players who were released at the end of last season plus two trialists Anthony Glover and Sol Ofia. There were two more trialists, Daniel Barrie and Louis-Rae Beadle, who came on as substitutes as did Chris Anderson who had already left the club at the end of the previous season.
The team a year ago was: Josh Cook, Anthony Glover, Neil Yadolahi (Tom Anderson), Alex Coleman, Dave Lynch, Steven Hewitt (Chris Anderson), Alex-Ray Harvey, Joe McKee, Dominic Knowles, Sol Ofia (Daniel Barrie), Ross Wilson (Louis-Rae Beadle).
Jason Blake's development squad was boosted last Saturday with the inclusion of Jon Stewart, Luke O'Neill, Kevin Long, George Porter and Alex MacDonald. All of those five players are with the first team and tonight he'll revert to the squad used at Mossley and Barrow.
The starting line up is likely to come from: Conor Mitchell, Callum Jakovlevs, Aryn Williams, Alex Coleman, Tom Anderson, Jack Errington, Luke Conlan, Luke Gallagher, Archie Love, Adam Evans, Mehdi Lazaar, Shay McCartan, Joe Jackson.
Kick off at Padiham tonight is 7:00 p.m.