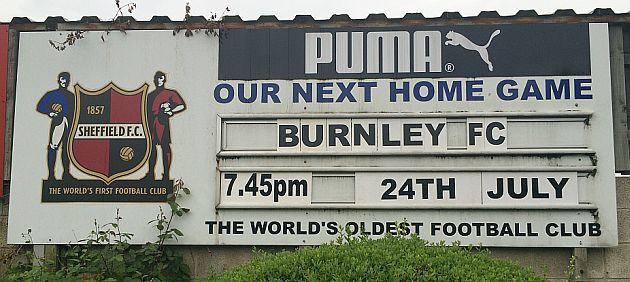 We were there in good time for the 7:45 p.m. kick off, availing of the facilities in the pub next door, but that kick off was delayed until 8:07 p.m. following the late arrival of the Burnley team.
It's a game that is very difficult to report on given that only four of the players in the Burnley side were actually Burnley players; the other seven being trialists.
But we knew one of them was Daniel Agyei. He played the first half and added two goals to the one he'd scored against Ashton United a week earlier with Jamie Frost, one of the four Burnley players, also finding the net.
We were the better side throughout and played some good football, particularly in the first half when the watching Ian Woan and Tony Laughlan must have been impressed with some of the trialists, particularly Agyei and a blond haired midfielder who wore the number eight shirt.
A fourth goal from a substitute trialist wrapped it up in the second half with the squad next set for action at Ramsbottom tomorrow and Colwyn Bay this Friday.
The team was: Danijel Nizic, Trialist, Trialist, Alex Whitmore, Trialist, Trialist, Trialist, Aiden O'Neill, Trialist, Daniel Agyei, Jamie Frost. Subs: Craig Mawson (who looked as though he might have to come on in the first half when Nizic was injured) and trialists.