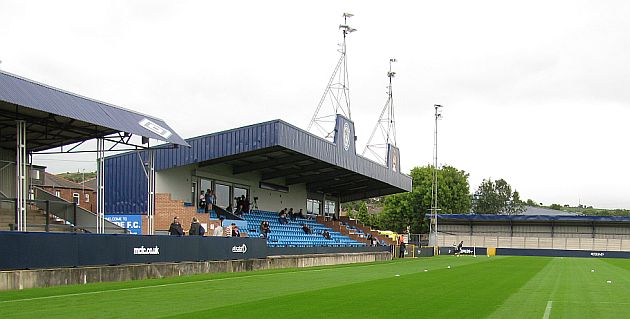 After the hot weather of recent weeks, and the difficult conditions for players, it was all change last night at Ewen Fields as the heavy rain caught out at least one Burnley supporter and certainly brought a rapid drop in the temperature.
Burnley had named a strong squad for the game and the inclusion of players such as Luke O'Neill and Joseph Mills brought the club's first team coach Tony Loughlan to the technical area alongside development coach Simon Weatherstone.
We made a slow start to the game with the home side grabbing the early initiative and it was probably no surprise when Hyde took the lead on 22 minutes. We failed to deal with a ball down their left and when the ball came into the box it was finished well by the Hyde striker.
That seemed to spark Burnley into a bit of action and we were level nine minutes later with the first Noble goal I've seen since Uwe netted his last Burnley goal, our third in a 3-3 draw at Charlton in October 1979.
It came from a free kick after Joseph Mills was fouled down the left. Steven Hewitt took the kick and Noble headed home from close range.
That's how it remained until half time and there were no further goals in the second half although we certainly upped the tempo and I felt played some better football after the break.
Probably the closest we came was from substitute Jason Gilchrist. He'd not long been on the field when he did what he does best and got himself into a scoring position after taking on and beating the home defender to the right. Then, uncharacteristically, he blazed over the bar.
And so a draw it was and thankfully the rain had all but stopped falling as we made our way out of the ground.
The Burnley team was: Alex Cisak, Luke O'Neill (Cameron Dummigan 75), Alex Coleman, Tom Anderson, Kyle Brownhill, Steven Hewitt, Archie Love (Kevin Ly ht), Andrew Musungu (Christian Hill 80), Jamie Frost (Jason Gilchrist 75), Joseph Mills, Ryan Noble. Subs not used: Daniel Nizic, Jack Errington.