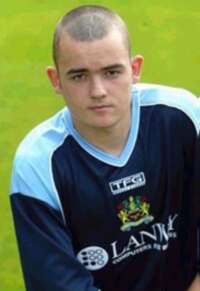 Damien Hindle - five goals in the Merit League
We've had to wait for Carlisle to complete their backlog of fixtures to announce the final table, but this happened on Friday when their last game, at home to Bradford, had to be declared void as the Cumbrians could not field a team.
In the remaining fixtures Notts County had a good 1-0 away win at Stockport, thus ending the Hatters' seven match unbeaten run; Doncaster hammered Lincoln 6-0 to ensure that the Imps would finish bottom; Chester won 3-0 at Bradford; and Carlisle beat Grimsby 2-1 and drew with Doncaster 2-2 before that Bradford fixture proved too much for them.
Finally, two of the youth cup competitions we entered have reached their conclusions. Manchester United carried off the FA Youth Cup for the first time since 1995 with a 3-1 aggregate victory over Middlesbrough. The second leg, a 1-1 draw at Old Trafford, was played in front of a crowd of 14,849.
Preston have won the Lancashire FA Youth Cup. They beat Wigan 4-0 at Deepdale, care of two goals from Fola Onibuje, and one each from Michael Brown and Kelvin Langmead.
Merit League reported leading scorers:
8 Carlos Roca (Oldham)
8 Dean Buckley (Chester)
5 Damien Hindle (Burnley)
5 Craig Fleming (Oldham)
4 Kris Nurse (Notts County)
4 Leon Best (Notts County, now Southampton)
3 Alex Taylor (Burnley)
3 Oliver Ryan (Lincoln)
3 Jon Maloney (Doncaster)

Burnley's Merit League Results

Final Merit League Table