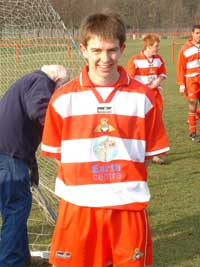 Jon Maloney - Doncaster scorer
Our 4-2 defeat of Carlisle at Gawthorpe wasn't quite enough to give us top position; that honour goes to Notts County who beat Chester City 4-0 with both Leon Best and Kris Nurse getting a brace each. John Slavin scored both Carlisle's goals.
Grimsby came out on top in the Lincolnshire derby beating the Imps 2-0, Miles Chamberlain and an own goal the scorers. The other weekend winners were Oldham who beat Stockport 3-2; Carlos Roca, Scott Vernon and Rob Walker were on target for the Latics, with Mattie Davis and David Holt replying for the Hatters.
The remaining Division Two fixture saw Doncaster Rovers and Bradford City draw 1-1, Jon Maloney and Tom Penford the respective scorers.
The Oldham-Stockport fixture was a game of new coaches. Oldham's financial plight has led to something of a clearout this last week, with the club announcing that as well as assistant manager David Cross, they were making youth team coach Billy Urmson and Youth Development Officer Jack Edwards redundant. For Urmson, this was the end of 27 years at Boundary Park. Taking over youth team duties now are two of the first team squad, Lee Duxbury and John Sheridan.
In an almost identical situation Stockport too have announced a new youth coach, as Nigel Deeley was made redundant. Reserve team coach Craig Madden now combines the two roles in a "restructuring" (i.e. money-saving) move by the Edgeley Park outfit.
Finally, some news of our former Alliance League adversaries, Tranmere and Preston. On Monday night Tranmere progressed to the quarter final of the FA Youth Cup, beating Port Vale 4-1 at Prenton Park, and will now face Manchester United at Old Trafford. The Valiants were better supported at the game than the home side, having taken at least six coachloads of fans to the Wirral. Unusually, Chris Dagnall, scorer of 32 goals so far this season, failed to find the net for the Rovers. However he did find his way into the referee's notebook twice and was consequently sent off.
Preston's achievements at youth level have led to an invitation to appear this summer in the prestigious Milk Cup U-19 competition in Northern Ireland. This is widely regarded as one of the world's top youth competitions, and when current world U-19 champions Brazil will be taking part, you can see why. Coach Simon Davey admitted that his squad came of age in reaching the semi finals of last summer's competition, which featured amongst others Manchester United, Leeds United, Independiente, and the Australian national team.
Perhaps Burnley should be aiming for the 2004 event? Sounds like a much more appealing prospect than yet another trip to the Isle of Man Fag Packet Trophy.
This Saturday's fixtures:
Carlisle v Notts County
Chester v Doncaster
Oldham v Grimsby
Stockport v Burnley (11am, but check first!)

Merit League Table