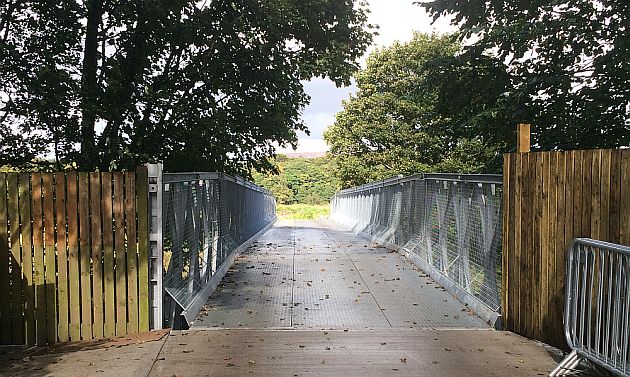 I have to comment on our training ground. The new bridge, as you can see above, is in place and although it looks like a building site initially, the pitches already in place are in superb condition, not only for the players but also for spectators who are no longer required to stand in mud.
The first team were just finishing their training when we got there and we passed a number of them as we crossed the bridge. There is no aloofness at Burnley these days and everyone of them spoke and we even received a 'Guten Tag' from striker Rouwen Hennings.
Four players were still doing some work. Scott Arfield, Matt Taylor, Chris Long and Joey Barton were taking penalties and I can confirm that what Barton may or may be, what he may or may not do for us, he's no goalkeeper.
There are just a couple of players in our development squad that I was still to see play. One of them is Luke Hendrie and the other Arlen Birch who signed earlier today. Both were in the starting line up, Birch at right-back and Hendrie, who captained the side, in the centre of defence.
It was a scrappy sort of opening with Fleetwood shading it, but there was no real sign of a goal until one came in the 21st minute with the visitors taking the lead. The Fleetwood forward turned right on the edge of the box to hit a shot past the despairing dive of Danijel Nizic.
It took Burnley no time at all to recover. Just five minutes later, Cameron Dummigan made a run down the left. He played a one-two with Steven Hewitt as he got into the box before turning inside the defender and hitting a shot across the goalkeeper into the far corner.
By half time we should have been in front but it didn't take too long into the second half before we did just that. When Ntumba Massanka is on the pitch there is always something likely to happen in the opposition box and he made a run across towards the right and was clipped by the defender.
The referee didn't hesitate in pointing to the spot and Massanka took the kick himself and hammered it home to give us the lead.
We really should have gone on to ensure victory but we were hit by two scrappy goals either side of the hour that saw Fleetwood turn things round. It was poor defensive work from Burnley on both occasions.
Burnley pushed for an equaliser. Massanka hit the bar, Jamie Frost went close a couple of times but with time running out it looked as if it wouldn't come, but with just four minutes remaining on the clock it was Massanka again. He ran onto a through ball, went past the defender to the right and then hit his shot home across the Fleetwood goalkeeper.
We pushed for a winner but had to settle for a 3-3 draw.
There were some real positives from this game but we do need to avoid giving soft goals away. It's on to Monday next and the chance for some of these lads to play on the Turf when we face Wigan in the Under-21 Premier League Cup.
It's the last of the First Qualifying Round ties to be played. Bournemouth, Exeter and Wimbledon have already gone through in the South with Doncaster having beaten Preston 1-0 in the other Northern tie.
Today's team was: Danijel Nizic, Arlen Birch (Shaun Hobson 87), Luke Hendrie, Alex Whitmore, Cameron Dummigan, Brad Jackson (Renny Smith 59), Aiden O'Neill (Khius Metz 72), Fredrik Ulvestad, Steven Hewitt, Jamie Frost, Ntumba Massanka.