And for the second time, our young players are being given the opportunity to play in the home stadium of a Premier League club with tonight's fourth round tie having been moved to the Etihad Stadium after originally having been scheduled to be played at non-league Stockport County's Edgeley Park.
Five weeks ago I wrote ahead of the United game: "It's going to be a tough game for our youth team as they head for Old Trafford and a date with Man United, but it is also going to be a big night for them and one they will probably never forget."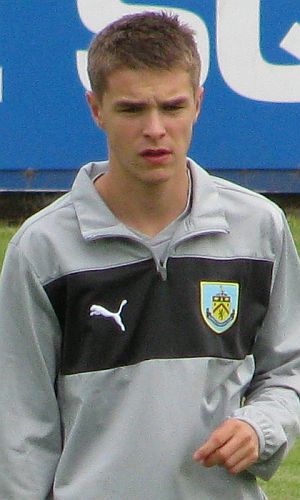 Jason Gilchrist, a hat trick against United
Just replace Old Trafford with Etihad Stadium and United with City and I think the same words apply. Having sensationally won that United game 4-3 after extra game, with United fan Jason Gilchrist, who was once on City's books, grabbing a hat trick, it was hard to comprehend that we'd get City away in the next round.
That's happened and for our young lads tonight it might be a case of shaking off the rust with us not having played a game between the two.
Coach Terry Pashley has been with the club in this capacity for over 20 years but I don't think he's ever quite been in the limelight as much as he has in the last year. Last season his youth team reached the semi-final of this competition, beating Ipswich, West Brom and Fulham on the way before going out to Blackburn over two legs.
He's had a short time with the first team, standing in after Eddie Howe went back to Bournemouth, and then returned to his regular duties in time for the Old Trafford win.
The one thing you are certain to get from Pash is seeing both of his feet firmly placed on the ground and that's what he'll expect from his players tonight.
Pash has said ahead of tonight's game: "To go to Old Trafford and score four goals, you can't call it a fluke. The boys will be better for the experience of what happened at Old Trafford, but it's a different game and we can't rest on that. That's history and that's gone. We can't live off that.
"I will be looking to see of those boys can produce that level of performance again. It's a different game and a different occasion and I have told them that nothing less will do from what we produced at Man United. If anyone plays to a level less than they did on that night we could get found out.
"It's going to be tough. They have some good players and some great resources but we will approach it in the same manner."
On the subject of the lack of games since the Old Trafford win, he added: "It's not been ideal preparation but we will just get on with it. To go and play on another Premier League ground is a great experience for the boys.
"I would be lying if I said we were going there expecting to win. You go there hoping, like every game, that the boys do themselves justice and really perform to the level they are capable of producing."
Gilchrist got his hat trick and the other goal in the last round, our first, was scored by New Zealander Cameron Howieson who will captain the team again tonight.
"I am so looking forward to the game," he said. "It's another huge step for us after playing at Old Trafford and I feel the United game will stand us in good stead. We have to go into this game as we did there and if we can do that I think we have a really good chance.
"We have a lot of belief in this side this year, just as we had when we reached the semi-finals last year, but it would be even bigger this year if we can knock out the two Manchester clubs."
I would expect Burnley to line up very similar to how they did at United. The team that night was: Callum Jakovlevs, Cameron Dummigan, Charlie Holt, Alex Whitmore, Luke Conlan, Nathan Lowe, Luke Daly, Kevin Ly, Cameron Howieson, Jamie Frost, Jason Gilchrist. Subs: Conor Mitchell, Christian Hill, Evan Galvin, Brad Jackson, Andreas Bianga.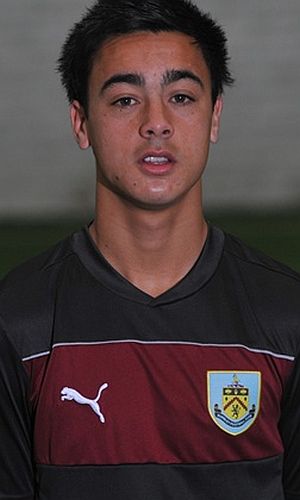 Cameron Howieson, a lot of belief in the side
City's Head of Academy Mark Allen is looking forward to an attractive and exciting game. He said: "In the last round against Sunderland we played really well on the night and it was great to play against a team of the same age group and the performance was particularly pleasing, hopefully we'll see the same on Thursday.
"As with every game there will be analysis taken of the opponents and we'll prepare accordingly based on that. Burnley had a big scalp in the last round and, as is the case in every round of the Youth Cup, we won't be taking the opposition lightly. We'll give them the respect they deserve.
"We don't want to talk about how far we can go in the competition, it's a cup competition and anything can happen on the night."
City will be captained by midfielder George Evans. The England under 19 international doesn't usually play in City's youth team but is a member of their Elite Development squad. He is one of a number of players who will join the youth squad for this game as he explains.
"We've had a really young team in the league and I think in the last round there were nine or ten players who had played at under-21 level all season. I think that game against Sunderland showed how much we are learning and developing from that experience."
Coach Attilio Lombardo was delighted with the performance in the win over Sunderland. They won 3-1 with goals from Sinan Bytyqi, Jose Angel Pozo and Marcos Lopes. All three of those players, like Evans, were called up from the Elite Development Squad as were Olivier Ntcham and Karim Rekik. It is likely to be similar tonight.
Their team was: Ian Lawlor, Matthias Bossaerts, Greg Leigh, George Evans, Ellis Plummer, Karim Rekik, Olivier Ntcham, Sinan Bytyqi, Devante Cole, Jose Angel Lopes, Marcos Pozo. Subs: Vlad Marin, Angus Gunn, Brandon Barker, Kean Bryan, Jack Byrne.
Looking at that list, apart from Evans, the two who are considered the big potential stars are Pozo and Lopes. Pozo was signed in last January's transfer window from Real Madrid. He's still only 16-years of age and plays as a striker.
Because of his age, City didn't have to pay anything for a player considered one of the hottest prospects in Europe but did make a goodwill payment of £100,000 to the Spanish giants. They were able to lure him with the promise of reserve team (under 21) football and bigger wages.
Lopes is Portuguese and was captured from Benfica where he was a member of their youth team. Lopes reached his 17th birthday at the end of 2012.
It is going to be tough again, but all we can ask is our lads give of their best whilst enjoying the occasion.
Tonight's game at the Etihad kicks off at 7:00 p.m.