Getting to the North Wales coastal resorts is a much easier task than in years gone by with the journey now virtually all motorway and dual carriageway which meant we were in Colwyn Bay by mid afternoon, eventually making our way to The Picture House.
It was a real picture house back in the day but is now a pub belonging to a well known chain. Even so, the theme of films was very much present with an actor who appeared in The Full Monty enjoying an afternoon drink, an actor probably best known as Coronation Street's Les Battersby.
There was a nice welcome for us when we finally arrived at the ground. It's not often you go to an away game and the home team manager comes out to greet you, but that's what we got from Ash Hoskin who is set to go into his first season with them.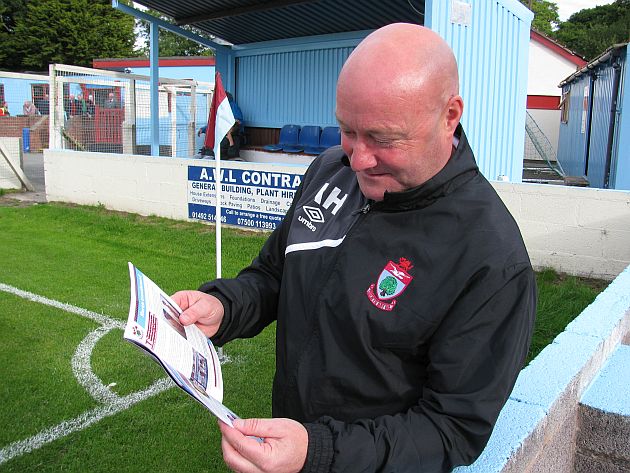 The club chairman told us he's already made an impression since taking over but I thought it best not to go into detail. There were certainly some nice words about him in the match programme written by Andy Farrell who was about to spend ninety minutes in the opposite technical area and Ash certainly made sure he read them.
The one minus of Ash taking over is that we will be one season ticket holder down at the Turf this season, he remains as committed a Claret as he's ever been and at least he's found a home with a club that play in the same colours.
We settled into our seats in the main stand in front of some home supporters who were speaking a language far different from ours; they had appeared to be speaking English before we took our seats though.
It looked a healthy crowd which turned out to be 263 but I'm not so sure whether that included Bay's most committed supporter who can be seen in the picture below looking over the wall. He never moved throughout the entire game.
A quick check of the Burnley team showed we had just three trialists this time, one at the back, one wide and one up front, none of whom particularly impressed.
It was a competitive game and a close one with a draw perhaps the fairest result with us taking a first half lead and then having to equalise in the second half with as spectacular a goal as you are likely to see.
We'd looked the better side in the early part of the game. We'd had a couple of chances with Bay goalkeeper Chris Sanna saving well from our trialist striker who, shall we say, was more likely to go down than Dimitrios Papadopoulos.
The lead eventually came our way on 21 minutes when a ball in from the right dropped nicely for Jamie Frost who scored from close range to continue his run of good form in front of goal.
That lead lasted until just three minutes before half time when we allowed them a soft equaliser. A long ball down the pitch saw Rob Hopley get there ahead of the defender and hit it over the advancing Conor Mitchell with the two players colliding as the ball found its way into the net.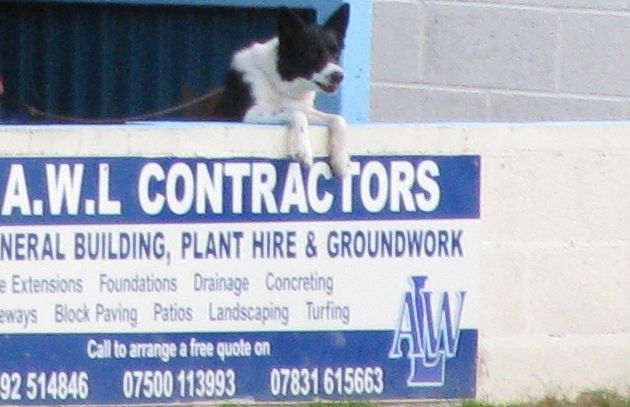 Sanna had played well in the home goal during the first half and Mitchell certainly had to do the same in the second half to keep the scores level. He made a couple of good saves before he was beaten again with sixteen minutes remaining, and then almost kept it out.
They won a free kick on the edge of our box, initially refused by the referee before the assistant flagged it. The kick was blocked and the danger looked to have been averted, but they got the ball back into our box with Mitchell again saving well from point blank range.
This time the save was to count for nothing when Carl Rodgers, who had seen his initial shot saved, followed in to score from his second attempt.
Within two minutes we were level and were so close to going in front two minutes after the equaliser.
What a goal it was to complete the scoring. I might be exaggerating by comparing it with Charlie Adam's for Stoke last season at Stamford Bridge because Nathan Lowe was just, and I mean just, inside the home half of the pitch when he looked up, saw Sanna off his line and beat him from almost 50-yard with a shot that flew into the net.
Bay's Sam Barnes crashed a header against his own bar two minutes later; another couple of inches lower and we'd have been back in front, but it was left to Mitchell to save well right at the end before the referee blew his final whistle to signal a second successive 2-2 draw for our team this week.
The teams were;
Colwyn Bay: Chris Sanna, Wes Baynes (Shaun Dowling), Zak Corbett (Mike Lea), John Dillon, Sam Barnes, Luke Denson, Cory Williams (Harry Clayton), Robbie Booth, Rob Hopley (Brandon Zibaka), Archie Love (Jordan Fagbola), Joe Williams (Carl Rodgers). Sub not used: Gaz Rees.
Burnley: Conor Mitchell, Steven Hewitt, Tom Anderson, Trialist, Alex Whitmore, Trialist, Brandon Wilson, Aiden O'Neill, Nathan Lowe, Jamie Frost, Trialist.
Attendance: 263.