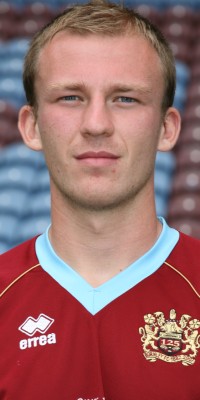 Rob Turner - scored our goal
The winning goal, two minutes from the end was cruel on the young Clarets who had fought their way back into the game after falling behind in the first half.
In truth it was a scrappy first forty-five minutes on a pitch that looked nowhere near big enough to house 22 players, but it was the home side who took the chance to go in front.
We did think we'd equalised but a James Craggs goal, and a well taken goal at that, was ruled out for offside. Overall neither side had really done enough but the Clarets stepped it up during the second half.
It didn't look initially as though we were going to get back into things but eventually we started to get our game together and for the first time the home side were put under some pressure.
The equaliser came following a powerful shot from captain Adam Kay that the keeper couldn't hold. Rob Turner was first in but he looked second favourite against the recovering keeper. However, he got there just ahead of him to net.
Turner almost put us in front but this time the goalkeeper made an excellent save, and the Clarets started to put some pressure on the home side.
I'd just accepted that we might have to settle for a draw when Preston clinched it with that late goal. Despite a late rally there was to be no second comeback and we suffered our second defeat in three days against Preston.
The team was: Stef Ritchie, Ben Hoskin, Dan Brown, Chris Lynch, Matt Lomas, Alex McDonald, Chris Anderson (Dean Stott), Alex-Ray Harvey, James Craggs (Lewis Craig), Adam Kay, Rob Turner.