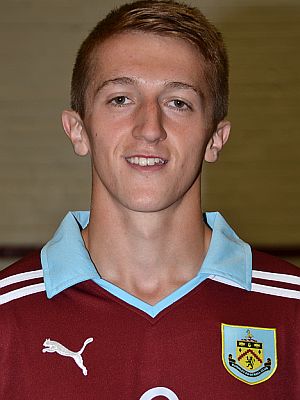 Captain Tom Anderson
North End were always clear favourites to win today, and they duly did in a heartbreaking way for the young Clarets.
Wigan actually took the lead with Preston equalising right on half time with a penalty and then going on to win it with a goal in the 87th minute.
It's left us as runners up in the league for the third time in four years. In the 2008/09 we were second behind Wrexham, last year Rochdale pipped us, and this season despite only four defeats and 58 points from 24 games we've had to settle for second place again.
Again the fixture pile up at the end of the season has cost us along with first team calls and injuries that have cost the team, at times, over half of the side that had won through so well in the FA Youth Cup.
This team deserves to win something and still can with the Lancashire FA Youth Cup Final against Preston to come next Wednesday at Deepdale. There'll be no first team calls and, whilst there appears to be little chance of either Aryn Williams or Tom Anderson playing, it will hopefully be a much stronger team we can field in what will be the last game of the season.
Whatever happens, and whether we win a trophy or not, our lads can hold their heads high after a fantastic season that has seen us drop only five points in the league, other than the spell in September when we lost all three games, and reach the semi-final of the FA Youth Cup against all the odds.
Well done to all of them and let's hope some of them can now go on and forge a first team future at Burnley.
The most recent results are below along with the league's one remaining fixture, Burnley's goalscorers and the current league table.
RECENT RESULTS
Wednesday 18th April
Burnley 1 Carlisle 2
Saturday 21st April
Accrington 0 Tranmere 2
Blackpool 1 Walsall 4
Burnley 4 Wigan 1
Bury 0 Wrexham 4
Oldham 0 Port Vale 2
Monday 23rd April
Stockport 0 Burnley 3
Wednesday 25th April
Preston 2 Wigan 1
REMAINING FIXTURE
Saturday 28th April
Wigan v Morecambe
BURNLEY'S GOALSCORERS (LEAGUE AND CUP)
23: Jason Gilchrist, Shay McCartan
14: Steven Hewitt
9: Adam Evans
6: Cameron Howieson
3: own goals
2: Jamie Frost, Luke Gallagher, Archie Love, Alex Mullin, Aryn Williams
1: Charlie Holt, Lewis Nuttall, Dean Overson, James Taylor
CURRENT LEAGUE TABLE
Team
pld
w
d
l
f
a
pts

Preston North End

24

19

2

3

60

22

59

Burnley

24

19

1

4

57

25

58

Walsall

23

15

6

2

62

21

51

Carlisle United

24

16

1

7

62

33

49

Tranmere Rovers

23

14

1

8

45

35

43

Rochdale

24

11

3

10

46

42

36

Bury

24

10

4

10

47

47

34

Oldham Athletic

24

8

8

8

32

31

32

Wrexham

23

9

4

10

42

37

31

Port Vale

23

9

3

11

44

44

30

Stockport County

23

9

1

13

40

58

28

Wigan Athletic

22

8

3

11

31

40

27

Shrewsbury Town

23

6

4

13

32

46

22

Macclesfield Town

23

6

6

11

24

38

22

Morecambe

23

4

4

15

36

68

16

Accrington Stanley

24

4

3

17

23

58

15

Blackpool

24

4

3

17

29

67

15