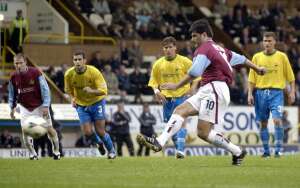 Andy Payton's last Burnley goal in October 2001 from the penalty spot against Barnsley
That was when more often than not the winning goals were scored by Andy Payton the Natural Born Claret. For whatever reason those days are over and Andy is close to the second anniversary of his last first team start for the Clarets and his last first team goal at Burnley was as far back as October 2001 in a 3-3 draw against Barnsley.
He's just on his way back to fitness from a hernia operation and was again in the reserve team as we took on Sheffield United at Chesterfield's Recreation Ground and his impact today was immediate.
It took him whole of six minutes to put the Clarets in front, a rare event indeed for a Burnley reserve team these days, and it came courtesy of the unselfishness of Greek striker Dimitri Papadopoulos who squared the ball for Andy to hit home from close range.
Papadopoulos got his reward though on the quarter of an hour when he was put through by Andrew Waine and he gave Blades' keeper Wilko de Vogt no chance in a one-on-one.
This was dreamland, a two goal lead, but it lasted less than two minutes when the home side hit back through Marcel Cas who was included at the last minute. Dutchman Cas has made over 50 league appearances for Notts County and his having a trial with Sheffield United.
The home side (if they can be at home on someone else's ground) then took control of the game and both Ryan Mallon and Steve Yates came close to grabbing an equaliser but in the event it was the Clarets who scored the next goal and it was that man Payts again.
It was just a couple of minutes before half time and again it was Dimitri who played the ball to him but this time from deep with Payts running onto it. He finished with the ease expected of such a goalscorer.
It was to be his last contribution as both he and Papadopoulos were substituted at half time. Had he done enough to impress the watching gaffer to warrant inclusion on Saturday? I suspect not.
Anthony Shandran and Damien Hindle replaced them and after an early chance for Shandy it was all Sheffield United. Thankfully they found Coxy and Earl in outstanding form and although they dominated we were able to keep chances to a minimum.
Kevin Murphy, Mallon and Laurens Ten Heuvel all had half chances but they hardly troubled us and only Ten Heuvel's effort forced Nik Michopoulos into serious action.
It was hardly a matter of holding out, we defended the lead comfortably and were able to return from Derbyshire with all three much needed points in our fight against relegation.
The teams were:
Burnley: Nik Michopoulos, Andrew Leeson, Ian Cox, Earl Davis, Gordon Armstrong, Mark Rasmussen (Richard Chaplow 63), Andrew Waine, Joel Pilkington, Alan Moore, Dimitri Papadopoulos (Damien Hindle 45), Andy Payton (Anthony Shandran 45). Subs not used: James Salisbury, Liam Eves.
Sheffield United: Wilko de Vogt, Richard Edghill, Alex Jeannin, Steve Yates (Adam Baum 80), Kevin Murphy (Rob Nugent 63), Tyrone Thompson, Marcel Cas (Anthony Tansley 63), Danny Wood, Laurens Ten Heuvel, Ryan Mallon, Grant Smith. Subs not used: Karl Colley, Gerry Quinn.