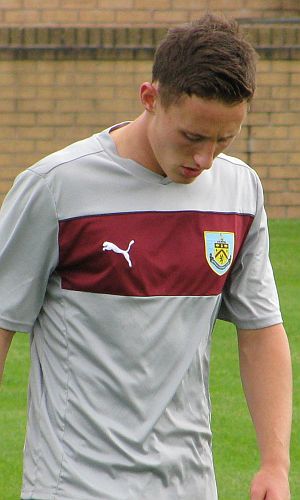 Hat trick for Joe Jackson
Jackson scored twice in a first half that saw Burnley go in with a 3-0 lead at the interval but it was a scoreline that hardly told the story in a game that was far more competitive than that score suggests.
Conor Mitchell, who impressed in goal for Burnley, was the busier of the two keepers but whilst he made a string of fine saves and looked very secure, the same could not be said for his opposite number Phil Phillips who had something of a nightmare.
The home side, who included Joe O'Neill, brother of former Claret Matt, and had Dean Overson on the bench, took the game to Burnley but we took an early and somewhat fortuitous lead in just the 8th minute. Jackson chased down a poor back pass. The goalkeeper looked to have got their just ahead of him but could do no more than knock the ball onto Joe from which it went into the unguarded net.
They really came back at us for a while. Mitchell had to deal with a lot of balls into the box, but he dealt with them well and made two excellent saves to prevent a Droylsden equaliser.
For around ten minutes you sensed that equaliser was on its way but it could, and I'm sure should, have been 2-0 after Phillips failed to hold a well drilled shot. Jackson was quick to get on the rebound only for the assistant's flag to astonishingly go up for offside.
He wasn't to be denied and just a couple of minutes later he did double the lead with another bizarre goal. Aryn Williams' right wing cross hit the far post, the goalkeeper couldn't get onto the rebound and Jackson was there to head home.
Right on half time, more confusion in the home six yard box left two Burnley players unmarked just a yard or so from goal. Luke Gallagher got the last touch and 3-0 it was at half time.
The second half was a quieter affair with little goal mouth action but enough for Jackson to complete a hat trick, slotting the ball home when put clear.
There could have been more goals, and young Evan Galvin looked very lively when he came on as one of two substitutes, but we had to settle for a 4-0 win just as the rain started to pour down with captain Alex Coleman accepting the trophy on behalf of the Clarets.
That's the last of the pre-season games for the development squad and with no league fixtures this coming season you wonder just when we might see some of them play again in a Burnley shirt.
The teams were;
Droylsden: Phil Phillips, Nat Kerr, Shaun Holden, Phil Bolland, Michael Connor, Tom Baker, Lee Rick, Steve Hall, Joe O'Neill, Tom Fisher, Carlos Logan. Subs: Lewis Killenn, Anton Byran, Cliff Moyo, Andy Langford, Martin Ormesher, Aaron Walters, Junior Sylla, Matt Walwyn, Reeces Ricardi, Joe Reidy, Dean Overson.
Burnley: Conor Mitchell, Aryn Williams, Alex Coleman, Tom Anderson, Joseph Walsh, Shay McCartan, Johnny Goddard, Archie Love, Adam Evans (Mehdi Lazaar 71), Luke Gallagher (Evan Galvin 69), Joe Jackson. Sub not used: Ben Woodhead.
Sub goalkeeper Ben Woodhead is currently with the club on a temporary basis, standing in for Craig Mawson coaching the young goalkeepers. With Callum Jakovlevs having played this morning in a 5-3 win for the youth team against Crewe, Ben stood in on the bench this afternoon.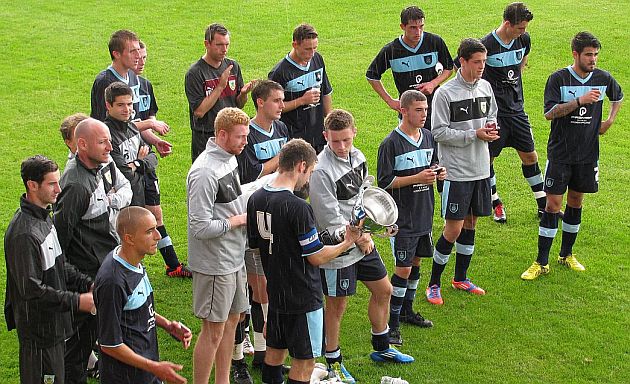 Alex Coleman (with trophy) and the Burnley team at the end of the game