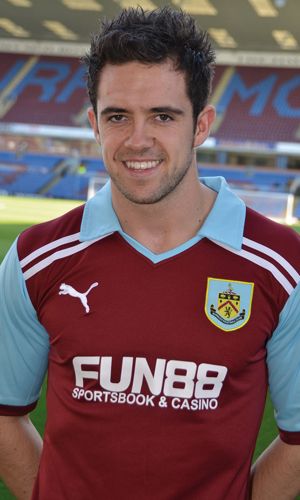 Danny Ings got the winner in his first Burnley game
He's fast become the forgotten man of Turf Moor. He signed from Bournemouth in August, just over a week after the season had got underway, but was injured within days and has been out of action since. That was until tonight.
Manager Eddie Howe said he wasn't going to rush him back and when the squad was named this morning, and he was one of the substitutes, it looked likely that the intention was to give him half an hour to ease him back in, and that's exactly what happened.
Preston are the only team to beat us in the Central League this season and we went looking for revenge with a more experienced team than has been the case this season with two trialists in the starting line up.
West Ham's Matt Fry was in the centre of defence alongside returning Kevin Long whilst Marvin Johnson, from Evo-Stik League Romulus, was at left-back.
We were definitely the better side in the opening exchanges with former Preston player Keith Treacy, hoping to win a place back in the first team, having the best early effort with a shot that went just wide of the target.
The early pressure came to nothing whilst at the other end there was only an error from Brian Jensen to concern ourselves with.
The game needed a goal, and thankfully it got one midway through the first half. We won a corner and when it wasn't held by the Preston goalkeeper there was the ever alert Wes Fletcher to hit home for his sixth goal in three reserve games this season.
At that point I thought we might step things up but we didn't and the game was very much a dour one with neither side able to find any sort of form.
Even so, we didn't look as though we would concede but that's exactly what happened when Fry gave a free kick away right on the edge of the box. George Miller took the kick and placed it low, wide of the wall, and beyond the left hand of the diving Jensen.
The rest of the half was poor stuff but with a couple of injuries to worry ourselves with. Dave Lynch was the first of them, but he was able to continue. Then, with half time approaching, Fletcher went down with a head injury which the referee deemed worthy of a free kick but no further action.
Wes was led from the pitch right in front of us and looked very dazed with Steven Hewitt coming on for him in the last minute of the first half prior to the stoppage time.
The second half started with Treacy on the right with Zavon Hines switched to the left, but it didn't last long as Lynch had to come off with just over a minute of the half gone. Central defender Alex Coleman came on, Fry moved to left back, Johnson took up position on the left hand side and Hines went up front.
The second half proved to be worse than the first half. For much of it there seemed little likelihood of a goal but it came from our third substitute Ings.
He replaced Treacy on 62 minutes and went up front with Hines going back on the left and Robinson then moving to the right.
Ings looked sharp, he looked as though he really wanted to make his mark. He got himself booked as the referee went card crazy, was hacked down from behind and then, when he got onto the ball from a Preston clearance, he notched the winner.
He did well to get past the defender on the right hand side but from the other side it looked as though his shot across the goalkeeper was heading just wide. Not for Ings who was already raising his arms, and the ball went in off the inside of the post to give him his first goal in claret and blue (well yellow given we'd changed).
Another goal at either end never materialised, indeed it was never threatened and after possibly the most disappointing performance of the season we exacted revenge over Preston reserves by taking all three points and going top of the league.
The teams were;
Preston: Andreas Arestidou, David Gray (Doyle Middleton 51), Scott Leather, Seanan Clucas (Michael McLellan 45), Daniel Devine, Bailey Wright, Conor McLaughlin, George Miller, Juvhel Tsoumou, Barry Nicholson (Alex Billington 63), Harry Bunn. Subs not used: Dominic Comrie, William Hayhurst.
Burnley: Brian Jensen, Alex MacDonald, Kevin Long, Matt Fry, Marvin Johnson, Zavon Hines, Joe McKee, Dave Lynch (Alex Coleman 47), Keith Treacy (Danny Ings 62), Dominic Knowles, Wes Fletcher (Steven Hewitt 44). Subs not used: Josh Cook, Ross Wilson.