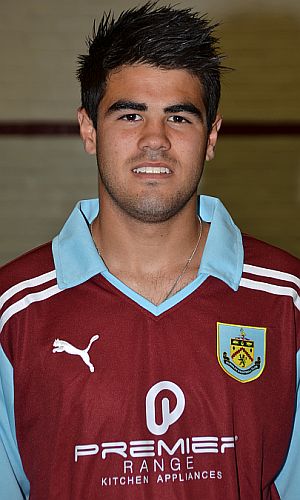 Aryn Williams is expected to be fit
It was the FA Youth Cup run that brought all the publicity. A home win against Ipswich in the fourth round was promising but things got even better with wins at both West Brom and Fulham to take us to a two-legged semi-final against Blackburn Rovers.
Despite the defeat there were still big hopes in the Youth Alliance League but we lost the title by one point having lost only four games all season, Preston taking the title, and it's Preston who we face tonight as we have one last chance to pick up a trophy.
We travel to Deepdale for the final of the Lancashire FA Youth Cup but unfortunately we'll go there without three of our influential players.
Tom Anderson, the captain and central defender, has been missing for a while due to glandular fever. The good news is that Tom is recovering well but he won't be considered tonight.
Adam Evans remains out with an injury whilst Cameron Howieson has returned to New Zealand for the summer. There could also be problems for Alex Coleman and Aryn Williams, with Williams returning from injury via the bench. Both limped off in Monday's reserve team win against Tranmere although both are expected to be fit.
Williams' full back partner Luke Conlan also made a return as a substitute on Monday following an injury and he came through with no problems.
Coach Terry Pashley said ahead of the game: "The boys are looking forward to it and seem really determined that they do want to finish with a trophy.
"I know winning the FA Youth Cup would have been a big ask but to lose the league by one point was a huge disappointment for them, so they are really focused and determined to hopefully finish on a high.
"You can look back over numerous games in the league and certain things have happened at certain times that have affected us, but we have played 24 games and they beat us by a point and we have to accept that.
"It was so tight and it could have gone either way and the game tonight is probably going to be the same with two evenly matched teams. It could go either way but I do believe in this group of players. We know what we are capable of and we know what we've got to do.
"We've been through it enough times this season and really it's about getting our minds focused and that having determination to go out and play and hopefully win the game."
Burnley's likely line up is: Josh Cook, Aryn Williams, Alex Coleman, Jack Errington, Luke Conlan, Luke Gallagher, Steven Hewitt, Archie Love, Alex Mullin, Jason Gilchrist, Shay McCartan. Subs: Callum Jakovlevs, Charlie Holt, Luke Daly, Lewis Nuttall.
Kick off tonight at Deepdale is 7:00 p.m. Admission is £4 adults and £2 concessions.