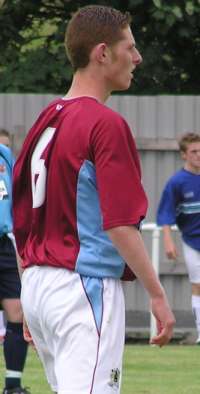 Chris McCann - played well at the back and was clearly fouled in the build up to the winning goal

It will also be a result that no one there will quite believe after the Clarets dominated proceedings for most of the match, went in front in the first half of extra time before conceding two late, late goals to a Norwich side that didn't look to have a goal in them.



It didn't start too well for us and we struggled to get into the game in the opening exchanges which saw central defender Chris McCann booked for a foul just over the half way line.



There were a couple of half chances for the visitors but they came to nothing and eventually we started to come into the game. We didn't just come into it, we got very much on top with the two wide players Marc Pugh and Tom Ince causing all kinds of problems for the Norwich defence.



Prompted by Darrell Avery and Nicky Platt in the midfield it was all Burnley and both Cayne Hanley and schoolboy Jamie Robertson came close to giving us the lead. Our best chance fell to left back Martin Reilly from a left wing corner but he put his header wide of the far post.



Michael Hale had been having a quiet time of it in the Burnley goal but he was called into action in a rare Norwich attack, tipping a goal bound effort over but it was soon the Clarets in the ascendancy again and we did just about everything but score and had to settle for 0-0 at half time.



New Head of Youth Development Vince Overson had joined Terry Pashley and Brian Taylor in the dug out and he had taken on the role of observer in the first half. The second forty-five minutes saw him somewhat more animated as the Clarets continued on top.



There were one or two bad challenges from the Norwich side, mainly they went unpunished by pretty inept officials. The assistant on the far side I don't think did anything all night and just tried his best not to get involved.



We perhaps didn't quite make the most of our opportunities but the woodwork came to Norwich's rescue as a shot rebounded off the foot of the post but it all ended all square at 0-0.



Many of the crowd got up and made their way to the exits but it was far from over with thirty minutes extra time to follow and the possibility of penalties.



And then it happened, just two minutes into extra time we went in front. Cayne Hanley run onto a ball on the left hand side. He was fouled twice, a usual Norwich ploy, but the referee played an advantage as he got into the box.



He couldn't get a shot in but the defender passed it back to the keeper who picked it up, a free kick to Burnley some fifteen yards from goal. It was touched to Neal Trotman who hammered his shot against the post but this time it went in and we were in front.



It could so easily have been two a couple of minutes later but Hanley delayed his shot and the chance was gone but we remained in control and there looked to be very little chance of Norwich finding a shot at goal, never mind equalising.



There was no doubt that we were tiring somewhat but what happened in the last five minutes was cruel and so hard to believe. The back four had been immaculate all night, they had turned in faultless performances and yet we were to conceded twice in three minutes as time was running out.



With the first of them we were caught out with a ball that was played down their right, and even then they benefited from a scuffed shot but two minutes later we suffered from a bad decision as Chris McCann was clearly fouled twice right in front of the referee.



Incredibly, with McCann now out of position, he allowed play to go on and they converted a ball from the right from close range.



Our players looked devastated, they were just unable to take it all in, but surely they would have heard the fantastic ovation they received at the end. They played well, it was a performance that was very much appreciated by the fans, and they deserved so much more than to go out of the FA Youth Cup.



There's no Man of the Match from me tonight, they all deserve it, now let's just hope they go on in one of the other competitions this season and win a trophy.



The teams were,



Burnley: Michael Hale, Rob Henry, Neal Trotman, Chris McCann, Martin Reilly, Marc Pugh, Darrell Avery, Nicky Platt, Tom Ince, Cayne Hanley, Jamie Robertson (Ali Akhbar), Subs not used: Mark Crossley, Jack Overson, Paul Crossley, Jay Rodrigues.



Norwich: Joe Lewis, Andrew Cave-Brown, Robert Eagle, Rossi Jarvis, Matthew Halliday, Lee Howlett, Sebastian Muddel, Patrick Boxfield, Chris Martin, Michael Spillane, Bally Smart. Subs: A Howell, S Herbert, Asmat El Quargiu, S Willis.