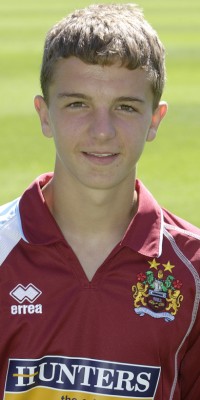 Jay Rodriguez, scored a 40-yarder
The win over Ipswich Town has seen us reach this stage of the competition for the first time in five years when, after wins at Padiham against Milton Keynes Franchise and Luton Town, we were surprise losers at Swindon Town.
We scored five goals in those two wins up at the Arbories with four of them scored by Burnley's 17-year-old striker Jay Rodriguez with a stunning 40-yard shot.
To tonight and the good news is that we've a full strength squad to select from. Cameron Howieson missed the last round because of chicken pox but he came through the last league game and is named in the starting eleven with Alex Mullin dropping to the bench.
It will be a tough game, without doubt. West Brom beat Barnsley 3-0 in the first round at the Hawthorns and then travelled to the Madejski where they beat Reading 2-1 last time out, although it was a fortunate win against a Reading side who dominated for much of the game after the Baggies had taken an early 2-1 lead.
Their form in the FA Premier Academy League has been mixed. They've won none of their last three league games, but did win the two before that, and comprehensively, against Bolton and Wolves.
Should we win tonight it will mean another away game against either Manchester City or Fulham and Burnley coach Terry Pashley said yesterday: "It's a good incentive because they are two other Premier League teams if we do manage to get through but we are not looking that far yet.
"We have a job of work to do tomorrow night. It is one chance. It's a case of no ifs and buts. When we go out the dressing room tomorrow night it's important that we don't leave anything in there, that we have a real good go and there aren't any regrets no comebacks. Win, lose or draw we want to know we have given everything possible we can."
Last time out the Clarets were beaten on penalties against Notts County in the Youth Alliance Cup but prior to that, including the FA Youth Cup wins over Boston United and Ipswich Town, we'd won thirteen successive games.

Captain Tom Anderson flanked by coaches Terry Pashley and Andy Farrell
"The lads are really looking forward to it and so am I," Pash added. The nerves will certainly be there but that's something they have got to learn to cope with a play with that pressure, and I firmly believe if the lads perform to their full capabilities then it gives us every chance of getting a possible result.
"We believe we have got a good bunch of players in this squad and hopefully they can go on and make good careers for themselves, but at this moment in time it is still about their learning and their development. Playing in major games on big grounds is a great development learning curve for them so hopefully tomorrow night. The nerves will certainly be there but that's something they've got to learn to cope with and play under that pressure
"There have been so many occasions this season when me and Andy (Farrell), we've just enjoyed standing there and watching them play because they go out every week and they give everything they've got.
"They play some good quality football. They play with the right spirit. They are a great bunch of lads to work with."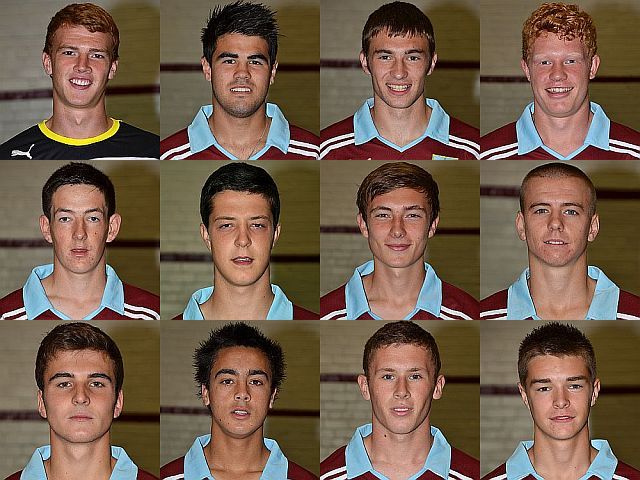 Top Row: Josh Cook, Aryn Williams, Alex Coleman, Jack Errington
Middle Row: Luke Conlan, Adam Evans, Alex Mullin, Steven Hewitt
Bottom Row: Archie Love, Cameron Howieson, Shay McCartan, Jason Gilchrist
Burnley are at full strength with midfielder Cameron Howieson available again after recovering from chicken pox.
We'll line up: Josh Cook, Aryn Williams, Alex Coleman, Tom Anderson, Luke Conlan, Adam Evans, Steven Hewitt, Archie Love, Cameron Howieson, Shay McCartan, Jason Gilchrist. Subs: Callum Jakovlevs, Jack Errington, Luke Daly, Alex Mullin, Lewis Nuttall.