Both sides had 100% records and Oldham had averaged a goal every twelve minutes in their two games to date and they immediately set about keeping up that average by taking an early lead in front of a healthy crowd enjoying the Gawthorpe sun.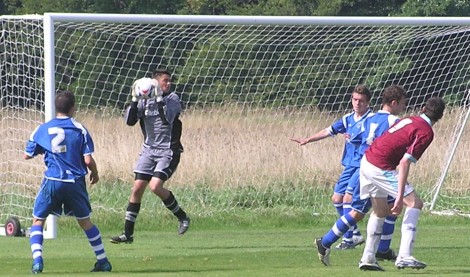 No goal this time - the keeper saves comfortably from a Lafferty header


We'd been promised a difficult game and it looked as though that was exactly what we were going to get, but then in a short period of exhilarating football we turned the game on its head with two goals and a wonderful effort that almost made it three.



Fit again Kyle Lafferty got the first with probably the goal of the game as he got through on the before unleashing a terrific shot into the bottom corner from an angle. We'd hardly had time to settle before another excellent effort, this time from Marc Pugh gave us the lead.



We were certainly in the ascendancy by now and I'm still not sure how Chris McCann didn't put us further in front with a fantastic strike. It was from at least twenty-five yards out on the right and was heading for the left hand top corner.



Unfortunately for Chris, and for the Clarets, the Oldham keeper made a superb save to tip it over at the expense of a corner and the score remained 2-1. We saw McCann's ability to striker a ball from distance last season and this, following the one against the bar in the Carling Cup against Carlisle, have brought him so close to opening his goalscoring account this season.



In front, and on top, the Clarets settled down to play some good football and with some luck would have increased their lead. In the end they had to settle for that 2-1 score as the referee blew for half time, but there was more, much more, to come in the second half.



We didn't start the second half too brightly and allowed Oldham, under the guidance as ever of former Claret Tony Philliskirk, to get the upper hand. And we paid the price when they brought it all level at 2-2.



This was the signal for us to up the pace again and we were soon back in front with a shot from the left hand side from Pugh that gave the keeper no chance as it headed for the top far corner.



Back came Oldham and a mix up at the back saw them bring it all level again at 3-3 before we'd reached the midway point in the second half. You sensed the game could go either way but Burnley had other ideas and got right back on top again.



And it came as no surprise when we went back in front, with Lafferty getting his second goal, this time hitting a low powerful shot from the right into the far corner. This time we weren't going to let the Latics back in and from a right wing corner Martin Reilly added a fifth with a powerful header that went in off the underside of the bar.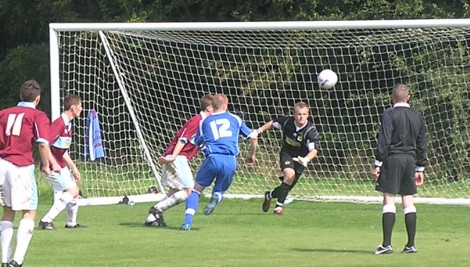 Oldham on the attack but goalkeeper Mark Crossley is quick off his line to thwart the danger


It was all over, or so we thought, but there was more to come and we are still trying to work out just how Oldham managed to score from a very tight angle to make it 5-4.



Time was running out and in the last minute of normal time Burnley went up for a penalty for hand ball. The referee appeared to wave away the claims but then pointed the spot. Pugh, the penalty taker, took hold of the ball and was all ready to step up and get his hat trick. Lafferty had other ideas though, he wanted his hat trick too, and after some debate between the two it was Kyle who took the kick.



Unfortunately he put his shot wide of the post to the goalkeeper's left just as the ninety minutes was up. Surely we wouldn't lose the lead now. The referee played over five minutes extra but there was to be no further comeback from the visitors as the Clarets made it three wins out of three.



I think it is fair to say that everyone enjoyed the game, even the collection of dogs belonging to Burnley FC directors, and overall we certainly deserved to win it. Both Kyle and Pughy took their goals superbly and the only real question mark facing this youth team is at the back.



In recent seasons we've had a collection of central defenders such as Gary Carter, Danny Pitham, Ryan Townsend and Neal Trotman. This team is not quite so well equipped in the position and Martin Reilly, a left back, is having to play there as the only alternative alongside Jack Overson who is in his first year.



There's no doubt they will get better as the season goes on but the young Overson would certainly benefit from playing alongside a strong central defender, maybe someone like his dad, whilst Reilly has proved more than a capable player down the left hand side over the last year.



But the team are certainly providing us with some entertainment and are certainly playing a good style of football. And Kyle today looked a different player at this level, a player who has clearly benefited from working with the first team.



We're back in action again next Saturday when we travel to Bury for a game that kicks off at 10:30 against a team coached by Chris Casper.



The team was,



Mark Crossley, Rob Henry, Jack Overson (Tom Blackler), Martin Reilly, Paul Casey, Ali Akbar (Connor Smith), Nicky Platt, Chris McCann, Marc Pugh, Jay Rodriguez (Dale Underwood), Kyle Lafferty.

Click HERE for Burnley's Fixtures and Results.