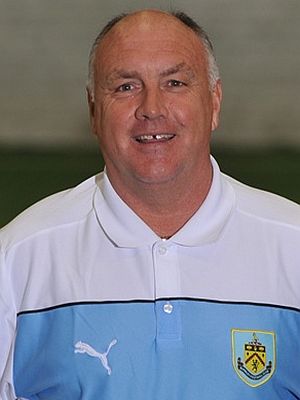 Referee spoke to Terry Pashley before calling it off
I was all but caught in a heavy shower in town around an hour or so before kick off and hesitated on whether to make the trip to Gawthorpe. I decided to go. It was fine, and it looked as though we were going to get a game of football.
I spoke to the match referee walking over to the pitch. He said it was soft but everyone agreed that it was fit enough to play. Walking across it remained dry with some wind but with no indication of the change about to come.
Suddenly, just a few seconds ahead of kick off, the weather took a dramatic turn for the worse. We were treated to some torrential rain and, to add to that, gale force winds. Everyone in the sparse crowd made a beeline for the Clarets Mad shelter (under the camera platform) in an attempt to protect themselves from the elements.
Accrington started the game with the wind in their favour and it was immediately obvious that we weren't ever going to be able to get the ball too far from our own penalty box.
We got the ball out once but the clearance blew back and went for a corner and when the same happened following a clearance from goalkeeper Callum Jakovlevs it was obvious that the game was going to be a complete farce.
The referee, who got absolutely nothing wrong in his decision making, halted play, went over to speak with the coaches and a quick decision was made to abandon the game, the only sensible option. As he signalled, I looked at my watch and there were 2 minutes and 33 seconds of the game played.
I again got the chance to speak to the referee on the walk back. He said he had little option and that both coaches had agreed saying that no one could gain anything from playing the game in those conditions.
The game will now have to be rearranged, hopefully for a day when the weather is a bit kinder.