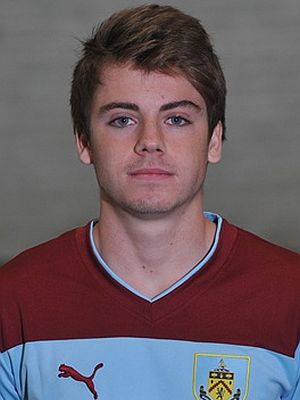 Defender Callum Richardson
The two sides have met twice already this season in the league with one win each. We went down 3-1 at Gawthorpe at the beginning of September with Jason Gilchrist scoring our goal.
But we got our revenge six weeks later with a 6-1 win at Blackpool with Gilchrist getting the second of his three hat trick of the season with Cameron Howieson and Lewis Nuttall both on the scoresheet and the remaining goal being an own goal.
The young Clarets have arranged this game as part of the build up to the FA Youth Cup tie a week tonight against Manchester United at Old Trafford and the team will include two of those scorers, Gilchrist and Howieson. The only second year scholar missing from the line up is Luke Gallagher.
The team also includes Australian defender Callum Richardson. He's not been able to play competitively as yet, presumably due to a wait for international clearance.
The game is scheduled for a 11 a.m. kick off tomorrow morning at Blackpool's Squires Gate training ground and the Burnley team is: Conor Mitchell, Waqas Azam, Luke Conlan, Callum Richardson, Alex Whitmore, Luke Daly, Nathan Lowe, Kevin Ly, Jamie Frost, Cameron Howieson, Jason Gilchrist. Subs: Callum Jakovlevs, Christian Hall, Brad Jackson, Ntumba Massanka, Andreas Bianga.