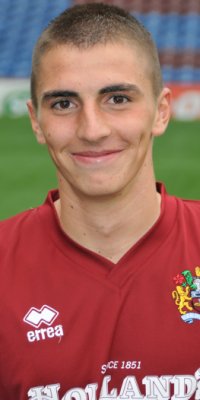 Defender Dan Brown
The reason for that is our lack of games and the two sides above us have both played three games more than us meaning that two wins from those three games would see us back on top of the league.
There was virtually a full programme last Saturday and that meant games for the new top two (Carlisle were already above is and top of the league). Carlisle had the easiest of wins against struggling Blackpool, who incidentally are the only side to stop us winning in the league this season.
Wrexham meanwhile beat Tranmere whilst there were also wins for Macclesfield, Stockport, Walsall and Wigan.
There will be an opportunity for the young Clarets to move closer to the top place this coming Saturday although even a win might not move us up the table. Leaders Carlisle are without a league game because of their involvement in the Youth Alliance Cup so a win for us at Rochdale would take us within a point of them. Wrexham though could go top should they win their game against Walsall.
Last week's results
Saturday 17
th
January
Accrington 0 Macclesfield 2
Bury 1 Oldham 1
Carlisle 4 Blackpool 0
Shrewsbury 0 Wigan 1
Stockport 2 Chester 1
Walsall 2 Port Vale 4
Wrexham 2 Tranmere 0
This week's fixtures
Saturday 24
th
January
Macclesfield v Wigan
Port Vale v Bury
Rochdale v Burnley
Walsall V Wrexham
Burnley Goalscorers (league and cup)
18: Wes Fletcher
6: Chris Anderson
5: Alex-Ray Harvey, Dominic Knowles, Liam Newman
4: James Craggs
3: Oliver Devenney, Michael King
2: Nik Kudiersky, own goals
1: Dil Chaggar, Ben Hoskin, Chris Lynch