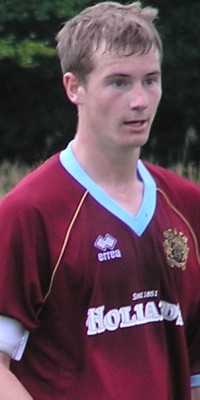 Adam Kay - immense along with Alex-Ray Harvey in the midfield
Driving rain and a howling wind greeted the teams and the handful of hardy spectators as our Alliance Cup campaign moved on apace. With Terry Pashley on 1
st
team duty the team was left in the capable hands of Overson and Farrell this morning and they shuffled the pack after back to back away defeats. We looked to be playing a more orthodox 4-4-2 with Lewis Craig on the left wing and James Craggs partnering Rob Turner up front. Jon Sergeant returned in goal, as did Thomas Bradley at left back.
Despite playing with the wind in our faces we started like we meant business and looked to dominate from the outset. This attitude paid off after just over five minutes of play as Alex McDonald was fed down the right and his cross found Craggs running in to smash home a volley from close range.
We constantly probed the Salop backline whilst they struggled in vain to produce anything to seriously test us, despite the wind favouring them. Sergeant was unable to get his kicks beyond the halfway line but our midfield of Adam Kay and Alex-Ray Harvey were immense, getting stuck in quickly and distributing the ball with precision.
Around 25 minutes in we doubled our lead, effectively ending any chances the visitors harboured. Craggs just had a shot tipped around the post and although the corner was cleared a free kick was won around 30 yards out. Kay assessed his options and while Shrewsbury stood and watched he slipped McDonald a beautiful pass and the wide man made no mistake from twelve yards out.
We could have scored 4 or 5 more times in the half as Craggs, McDonald and Turner spurned opportunities and Harvey was extremely unlucky following a mazy 50 yard run and shot which was blocked in the box.
The 2
nd
half started with us in much the same mood. One minute in and we had put the game beyond any doubt. Craggs shot from outside the box and it struck a Shrewsbury hand, as did a follow up effort from Turner. The referee ignored both but Harvey had chased after the ball and, although he was heading out of play, was brought down rather foolishly by the keeper. Kay stepped up and put it low to the keeper's right, just past his outstretched fingertips.
Our copybook was blotted within minutes though as they scored a delightful goal from a direct free kick 25 yards out. The changes that Shrewsbury had made at half time saw them attempt to play better football and for a short period they looked to be coming into the game more, but it was soon stopped by us. We continued to press but found ourselves hitting random body parts of the opposition keeper and defenders. Salop broke and could have scored a second as we momentarily switched off but Sergeant was alert and won his one-on-one battle.
With around a quarter of an hour to go Turner hit the post on the spin from around 12 yards out. The keeper was well beaten and the big lad was very unfortunate not to get his name on the scoresheet. Bradley then decided it was high time he got in on the act and put on his marauding winger hat. He came close with a cheeky chip that just sailed over the far post and then won a penalty when he dazzled the right back and drew a foul just inside the corner of the box.
Kay added his second and the Clarets fourth, this time sending the keeper the wrong way. We made a few changes for the last remaining minutes changing all bar one of the back line.
But the last comments should go to Alex-Ray Harvey. In the last 5 minutes he showed us his clean striking ability, firing into the top left corner of the net from at least 35 yards. I never saw the Rodriguez goal at Padiham, but I'm sure this must have been comparable.
Some excellent displays here today and I'm sure the coaches will have been very pleased. With cup performances like these even the boys down at Ashburton Grove should take notice.
eam:- Jon Sergeant, Ben Hoskin (Dean Stott), Thomas Bradley (Matt Lomas), Nik Kudiersky (Chris Lynch), Dan Brown, Alex-Ray Harvey, Adam Kay, Lewis Craig, Alex, McDonald, James Craggs, Rob Turner. Sub not used:- Stef Ritchie.