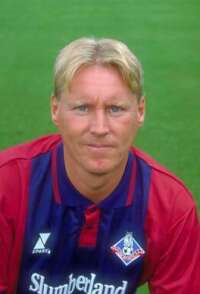 Oldham coach and former Claret Tony Philliskirk
As usual in Oldham it was bloody awful, and the 25 brave souls (most of which were Burnley fans) who watched the game had to endure the full range of intemperate weather that this remote outpost of Lancashire is infamous for.
Burnley lined up in 4-4-2 and included a trialist central defender, 16 year-old Londoner Gary Carter. The regular reserve team contingent were rested (presumably as there are two important games next week) and made up the substitutes.
Burnley: James Salisbury; Andrew Leeson (Joel Pilkington 58), Gary Carter, Liam Eves (capt), Jonny Leary (Earl Davis 44); Steven Richardson, Sean Blakey (Mark Rasmussen 78), Richard Chaplow, Paul Scott; Damien Hindle, Paul Barrett. Subs not used: Andrew Waine, Matthew O'Neill.
It became immediately apparent that our old friend the Oldham Mistral would play an important part in this game. Alternating between gale force and hurricane, it blew straight down the pitch into the faces of the defending Clarets. Penned back in their own half for much of the first period the Clarets did look dangerous on the break though, and were always trying to play constructive, passing football with Chaplow looking particularly impressive. The young Latics too were moving the ball around well in the difficult conditions.
In fact it was Burnley who created the game's first real opening in the 12th minute when an excellent 40-yard pass from Carter put Scott through on the left, and his first-time shot was well-saved by the keeper. Shortly afterwards a Mistral assisted inswinging corner thudded against Salisbury's post and was somehow scrambled away.
After another couple of close shaves in our six-yard box Oldham took the lead in the 28th minute. A copy of the previous corner was this time met by an Athletic head and the ball fairly zipped into the roof of the net. Nine minutes later it was 2-0 as the Clarets were caught out down our left flank and Salisbury was beaten by a firm cross-shot into the bottom corner. This was tough on Burnley as they had had the majority of the play without any reward.
Just before halftime a head injury to Leary meant that he had to be replaced by the mighty Earl Davis, who joined Carter in central defence with Eves moving to left back.
As the hail lashed down the Clarets dominated the opening stages of the second half. Barrett shot just over and with Terry Pashley's Claret and Blue army in good voice it seemed only a matter of time before we scored. However, nothing seemed to run for Burnley, as Oldham legs seemed suddenly to extend by six inches to block efforts from Blakey and Hindle. Credit to Oldham, they did defend well and counterattacked to good effect, although Salisbury was hardly tested.
Supremo Pashley opted for more experience in Pilkington and later Rasmussen in an attempt to get something from the game, replacing Leeson and Blakey (much to the disappointment of Mr and Mrs B who once again had travelled down from the north-east to see their Sean).
There was still a feeling that should we score we would go on to win the match. Oldham though stood firm. When a Hindle header was pushed onto the bar and over and the referee awarded a goalkick the travelling frozen faithful knew that was it.
A disappointing defeat then for the young Clarets, but the 2-0 scoreline did not really do them justice. The defence played well, with trialist Carter having a solid game and Eves getting in a lot of important tackles. Davis, as usual, dominated. The midfield worked hard and backed up the forwards well, although at times they struggled in the conditions. Chaplow, who had an outstanding first half but tired somewhat in the second, looks like another good prospect and at times was reminiscent of a Brian Flynn with his vision and close control. The forwards battled gamely throughout without any luck against an uncompromising defence.
Next Saturday the youth team are supposed to play Bradford City at home. We'll see. I think it's probably fair to say that had this game been scheduled for Gawthorpe it would never have taken place. Although not ideal the pitch was perfectly playable. More food for thought perhaps for our leaders as they ponder the future of youth development at the club.

Fixtures and results